Just one week left before the actual Top 12 is announced. I'm excited beyond belief because the top 12 would just mean that my classes are nearly ending and Idol Fever will really be in full swing (as if it isn't already).

After the boys great performance last week, I'm really expecting a lot this week. We'll see how things go as they see that the girls are really in this for the win. Still, I'm hoping for a boy winner again. I love the girls, but I can't exactly squee when they perform, can I?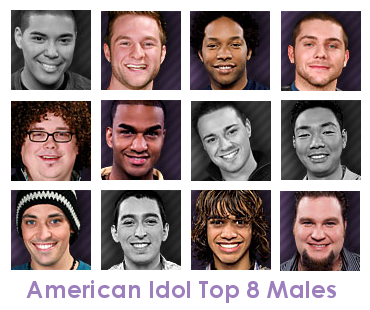 Blake Lewis - "All Mixed Up" (311) 2
Blake does no wrong. Song choice was unexpected and I loved it. These aren't the songs you normall hear on the Idol stage and yet they apparently are really good to hear. It's nice because he was able to incorporate his beatboxing without making it the main feature of the song. It's not easy singing a song with lyrics that difficult. Go Blake for pulling it off. I thought it was fabulous. Yes, not his personal best, but definitely leagues away from the other boys. Blake for the win. Pamy is grinning from ear to ear. I had no idea what Paula Abdul said about Blake, but it sounded nice. So Go Paula.


Sundance Head - "Jeremy" (Pearl Jam) 8
Why is Sundance still here? Thanks to the website VoteFortheWorst, Sundance is still hanging on. But with this performance, he really needs to go. This precious spot could have gone to dear Queen AJ instead of him and yet that talented guy is now out of the competition. I declare Sundance the NEW Scott Savol. I predict he will stay till the top 5, outing more talented performers like Phil. I can feel it. Please let me be wrong, America. Please. Funny secret though. Fat suits are love.


Sanjaya Malakar - "Waiting on the World to Change" (John Mayer) 6
I will get flamed for this, but I liked Sanjaya's performance. It was definitely better than his first two performances and that's a relief. And if Dial Idol is to be believed, he could be in danger, but he's probably going to be safe. I thought he did a good rendition of the song, but his vocals still weren't anything to scream about. I think he's too calm about his performances. It's like he's strolling in the park. Now I have nothing against that type of singing, but at least show me some energy. Still, I wish I had his hair.


Chris Richardson - "Tonight I Wanna Cry" (Keith Urban) 7
Last season, Ace Young sang this song on Country Night and for me, nailed it. There's something about Chris R's nasal-y voice that makes me think of a Keebler elf. I can't believe Simon and I think the same way now. Nevertheless, thanks to his legions of fans, he will make it to battle Blake in the finale (*I wish*). But really there was nothing spectacular about his vocals. It didn't showcase anything we haven't seen before. I'm no Chris R fan, so this shouldn't come as a surprise to anyone, really. But I really can't see what the judges see in him.


Jared Cotter - "If You Really Love Me" (Stevie Wonder) 4
First thing that came to mind was Elliott Yamin, top 24 performance, totally bringing me to
my knees. I knew Jared wasn't even going to come close to Elliott's loveliness, and yet he surprised me. I enjoyed it. I'm probably a Jared-fan-in-the-dark, but I really like this guy and not only forh is "sexiness" but I really like his voice.I thought he did the song justice. Still, hands down, Elliott brought it and I'm glad Jared didn't totally mess it up. Great rendition. Why were the judges picking on Jared? Hello, how about Sundance? He was horrible and they didn't give him half that crap. I hate biased judges.


Brandon Rogers "I Just Want to Celebrate" (Rare Earth) 5
I like Brandon. I think his vocals were really good. Why does he rank in the bottom three? Because I didn't like song choice. For me, it was monotonous and there was nothing there that made me go wow or think that he was better than the others. Brandon has a knack for choosing songs that don't showcase his range. Still, I don't think he should get the boot. Better song choices would do him really well, because in the first week, I ranked him really high. See, it's all about song choice and of course, how you pull it off. Yay for classical piano players though. He was really good on the piano. Maybe he should pull of a Miguel Mendoza and do a little piano playing.


Phil Stacey - "I Need You" (LeAnn Rimes) 1
Cla calls him Nosferatu and I don't blame her. There are times when Phil can look scary. But when he starts singing, he gives me the shivers and it ain't because I'm frightened. I loved his song choice because it's not something you hear on Idol -- at least not from a guy and not when it isn't Country Night. I thought he was amazing. Sure, he may have been straining for some notes, but over all, it was just ten thousand kinds of awesome. The hat was a little disturbing, but his stare was scarier. But if it's all on the voice, the money is there. Phil is the shit. Again, I don't know why the judges hate him, because I thought he wasn't odd at all. Is it because LeAnn Rimes sang it? I can't believe he's at the bottom at DialIdol


Chris Sligh - "Wanna Be Loved" (dc Talk) 3
I haven't been impressed with Chris for the past few weeks and yet I'm rooting for him. Tonight, he showed why he's even in this competition. Again, song choice was different but it was a pleasant surprise. I enjoyed listening to him because there was something to look forward to in the song. It was like his voice actually changed in pitch (no, not pitchy) and it was just really enjoyable to listen to. I really hope Chris sticks around because other than talent, he brings some fun to the show. When everyone's so serious all the time, he always manages to crack a joke or two to lighten things up. It's definitely a good use of the pimp spot.


My Bottom Three
1. Sundance Head
2. Chris Richardson
3. Sanjaya Malakar

Sundance is already a PERMANENT FIXTURE in my bottom 3 and yet HE NEVER LEAVES. What is up with that? So many have gone before him. All of which, I can say with conviction, should have stayed LONGER than him. People, wake up and see that Sundance MUST GO!!! Save Phil Stacy

Alas, things won't go my way again. Worst comes to worst, they kick out Phil and Jared. I'm thinking positively here and counting on Blake's legion of girlfans to keep him in. But really, with Sundance non-fans rabidly voting for him, no is safe and I mean no one. Rawr.