I never thought I would watch Bb. Pilipinas LIVE.

But thanks to sheer curiosity over Anna Theresa Licaros
jazz_stiletto's joining the contest and of course, Gian Magdangal performing, Pamy decided to go and have ago at it. Armed with our tickets, we headed to Araneta Coliseum.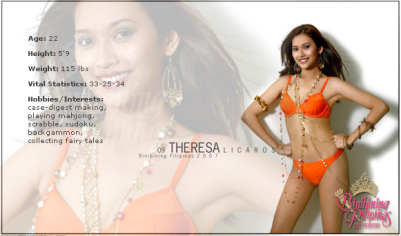 I knew Tere was going to go far. She's not summa cum laude for nothing after all. When we got there, there were so many people. There were only three types of audience: gay men, families and then there was us.

Other contestants had so many supporters -- complete with tarps and the lots of cheers. The wonderful thing with Tere was that with every segment of the competition, she won the crowd over with her beauty, wit and intelligence. She was calm under pressure and she held the attention of the crowd.

When she won 4 of the 6 special awards, the crowd was in awe. Pamy and I were just cheering our hearts out. Her question during the Q&A were so apt to her, asking her if she would choose the crown over her love life. This prompted a laugh from me and Pamy because Nikki,
johnfards was obviously in the audience.

She answered it with aplomb and the crowd cheered her on. It was almost a sure thing that she would place, but we could never be too sure.It's funny because one of the gay men beside us asked us who we were supporting and when we said number 9, he said it was a sure thing.

When Gian performed, only Tere was able to interact with him, and it registered really well on camera. On a side note, I thought Gian did really well with his performance considering the songs he was given to sing weren't exactly songs that could showcase his vocals. Nevertheless, it wasn't exactly about him. Still, it was fun to see him live again. It would have been better to see him a cream suit too. Unfortunately, he wore a dark coat. Still looking hot.

When Tere got awarded Bb Pilipinas Universe, we felt really proud. It's well deserved for sure.



Congratulations Tere!!!
It's well deserved victory!
You were fabulous and you should update your blog more
Good luck at the Ms Universe!
We know you'll do great!