Tomorrow there'll be 16 left. But for tonight, there were 20. Last week, the girls were so awesome, I fell off my chair and died from too much awesome-ness. Will the same be done tonight? Or will the boys reign supreme? All I can say is, the girls are looking good. Some of them have gotten quite the makeover and they're looking pretty snazzy. Simon Cowell has the funniest comments, and not just with their singing, but even with their outfits.

If just for the mini-makeover, I would audition for Idol. Oh wait, I can't sing. But then again, how many contestants are in this that really can't hold a note either. I think I might actually stand a chance. I'll just use a ton of gimmick and a dash of charm to woo my way in. Of course, I can always be supported by VoteForTheWorst, which >apparently, is really helping two lucky people make it. Just check out DialIdol and cry when you see who's on top.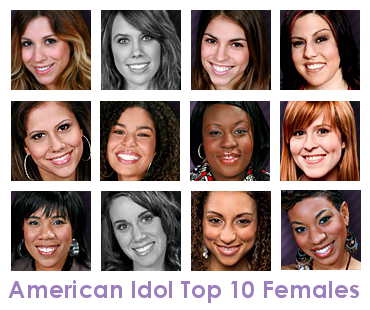 Gina Glocksen - "Alone" (Heart) 8
It's fine to take on songs that previous contestants have done. Unfortunately, Gina chose a song that the "annointed one" from season 4, Carrie Underwood did. That's never a good thing. I wasn't even a Carrie fan and I liked her performance of Alone. So Gina, thanks for trying, but better luck next time. I'm not saying she did it horribly, because it wasn't bad to listen to. I just wish she'd stop singing so loudly. It's like she's always so forceful, even on last week's song. The last note was just crazy. Still, I think the song probably called for it. I have to say that she looked really good in her red dress. The boyfriend must have been happy. It wasn't the best way to start the show.


Alaina Alexander - "Not Ready To Make Nice" (Dixie Chicks) 7
I wasn't ever a big country music fan, and I'm not really one to appreciate the Dixie Chicks, but lord knows they did a better job than Alaina when they sang this song. It was just good, but not great. And at this point in the competition. She's got to be great. Her vocals are good enough, but there wasn't any part of the song that made me go, she really deserves to be here. And if I didn't think that way, then what's going to compel me to vote root for her? She looked a little awkward with her moves though. Maybe she wasn't ready to rock it out in a dress (I loved her dress though). Still, I think her mom is the sweetest ever. She made her mom cry and that's just made me go aww.


Lakisha Jones - "Midnight Train To Georgia" (Gladys Knight & the Pips) 3
First off, that's a LOT of ORANGE. The shirt was orange, the background was orange. It was just so bright. Moving on, this song has been done by Camille Velasco on the season 3 album, by Paris Bennett on last season's show, and here goes LaKisha giving it her own spin. And guess what? She totally pulls it off. Thing is, I know her vocals are awesome, but I would have wanted her to choose another song. As this song has been sung a bazillion times. In the last part, I thought I was going to see up her skirt with her leg throwing. Still, great performance. Also, Lakisha's grandma is so adorable. I am Ryan Seacrest's biggest fan too.


Melinda Doolittle - "My Funny Valentine" (Chet Baker) 1
Now this is what an Idol is all about. Sure, Constantine Maroulis did a version in Season 4, but hello? Melinda totally nailed it and made it her own. She sang it so well. Her vocals were just on the dot. Pipes of steel. And how humble can Melinda get? With her talent, she can go boasting like others, but she doesn't. She is NOT a precocious little monster. Simon was so right. She really is a breath of fresh air, that sounds totally incredible. She really is the one to beat. Everyone else is like a million lightyears away. That's just too awesome. I wanna be one of her Gailes too!!!


Antonella Barba - "Because You Loved Me" (Celine Dion) 6
Holy crap, Vincenzo Barba is a hottie. But really, I'm glad that Antonella chose a more pop song. Last week's wannabe rockstar version of I Don't Wanna Miss A Thing was just terrible. Still, taking on Celine Dion, who is never easy to sing, even in karaoke, was a little ambitious. Nevertheless, I thought she did good on vocals. It's not easy to come after Melinda, but after listening to it again, I thought Antonella did a pretty good job. I actually think she kind of hit the notes. And once again, if her little scandal and the crazy folks at VoteForTheWorst weren't there, she wouldn't make it past this week. Aren't we glad they are?


Jordin Sparks - "Reflection" (Christina Aguilera) 5
Compared to Antonella's brother, Jordin's doesn't look as cute. But Jordin looked cute in her dress, and I don't even like blue too much. I know Jordin can do better. It's not fun to take on Christina Aguilera when your range isn't that wide either. Jordin could have done better with another song, but I think she did good vocals despite it. It was hard to watch her do those really big notes -- because she didn't really make it there, maybe it was because she was crying. Still, it wasn't like they were totally out of tune. I know I can't sing like that at all. I think it's a great technique to cry too, because the judges didn't touch her at all.


Stephanie Edwards - "Dangerously In Love" (Beyonce Knowles) 2
I have to admit I don't like this song. When it first came out on Destiny's Child's album, Writing's On The Wall, I just skipped over it. But hearing Stephanie's version was awesome. Her vocals were amazing. I'm surprised she had enough air in her small body to make it through the entire song. And that huge note near the end was just a jaw-dropper. She nailed it and she totally pulled it off. And if that wasn't enough, her last note was to die for. I thought she did a good job on it. It's tough taking on Beyonce, and I think Stephanie did a fabulous job. Stephanie looked really really good too in her white gown. So sexy! Shut up, Randy Jackson.


Leslie Hunt - "Feelin' Good" (Nina Simone) 10
Where has the catalog of songs gone? Is it just me or was this song done YESTERDAY by AJ Tabaldo? Or is just me? And can I just say how scary she looks when she looks straight into the camera? I got freaked. Fine, go and sing the song AGAIN, but make sure you impress the crap out of me! Unfortunately, it wasn't even close to AJ's version yesterday. I thought the start of the song was sung weirdly, too fast, then too slow. Maybe that's her style of making it "different." And what's up with the scatting? Only Blake can scat, girl. Simon's comments were really funny though -- comparing her to how Paula Abdul sounds while judging. If I were the Idol producers, I would rig it so that Leslie goes home tomorrow, because really, it's been two weeks already baby, and I think you just blew your second chance. Also, I'm suddenly craving icecream.


Haley Scarnato - "Queen of the Night" (Whitney Houston) 9
I want to root for Haley, but she's making it very hard for me. Of all the artists to sing, she chooses Whitney. Okay, so we forgive her. After all, she might have the "talent" to pull it off. But then she goes and chooses an upbeat Whitney, which theoretically should be easier to sing than those powerballads, but in practice is tough shit. So really. Haley, you just dug your own grave. I thought she was screeching and yelling the entire time, like she was gasping for air. She was fun to watch though. I don't think she stayed in one place for a second -- she covered the entire stage, for sure. It was entertaining, yes, but vocally it wasn't anything impressive. Oh Haley... don't pout at Simon. She looked like she was going to kill him.


Sabrina Sloan - "All the Man That I Need" (Whitney Houston) 4
I don't know this song and despite that, I actually liked it. Whitney Houston is probably the most challenging singer to sing to and Sabrina went in headfirst came out triumphant. Sabrina did a fabulous job because her vocals do all the work. She doesn't need a gimmick or whatever because she's got the talent to back her up. Her vocals are solid and yet she isn't screaming (take a hint, Gina). There's so much texture in her voice. It's a good thing she used her "pimp/final spot" placement well.

My Bottom Three
1. Leslie Hunt
2. Haley Scarnato
3. Gina Glocksen

Okay, so the boys were so much better last night. It's funny because last week, the girls were better than the boys. I guess you can't always be on top of it. But see, the rankings are practically the same for the girls. The good ones are better and the bad ones get worse. I don't know if I'll still be rooting for any more girls other than my usual favorites, because the others aren't giving me any reason to root for them at all. The bottom half were just really mediocre and though they're ranked, the distance between girl number 4 and number 5 is just miles away.

And Week 2 is over. If only we could kick out more girls and retain the boys. I thought the girls let me down this week, except for a few bright spots. The judges were entertaining, but again, there's only so much they can do. Ryan oh, Ryan, why do you always have to look so damn good? Thank god for the host, because really, I wouldn't listen to their numbers if anyone else was saying them.