The boys weren't bad this week. Compared to last week, I think most of them improved. However, I can't say the same for everyone. American Idol is more than just a singing contest and that's thanks to the judges, Ryan Seacrest and their interaction with one another. How much of it is scripted? I don't know. But I really don't care, because up to a certain point, I like the banter that goes between them.

But really, more than that, I'm here for the music. Tonight, the boys get to show us once again that they're better than what we initially saw and I'm hoping they really prove the judges wrong when they said it was a girl's year. I know the boys can do this.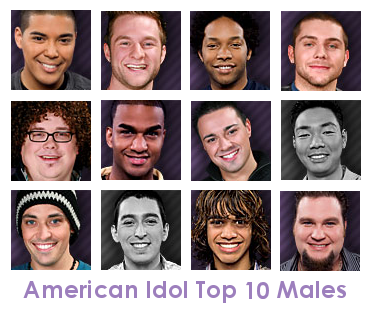 Phil Stacey - "Missing You" (John Waite) 2
First off, I heart this song. The original is kick-ass. Tyler Hilton's version is love. Phil nailed it. I thought he did a great first performance. It's not easy opening the show, but I really hope that the voters keep him in because his vocals were just stellar on this one. I thought he held his own. Phil is the shit! That voice is like melted butter over popcorn. Yummy.


Jared Cotter - "Let's Get It On" (Marvin Gaye) 3
For some reason, Jared Cotter really gets to me. On his vocals alone, I already felt the sexiness oozing out of him. It's funny though how he dedicated this song to his parents. Ew. Let's get it on, parents? Not really the message you want to give them, but hey, maybe Jared wanted a new baby sister or something. Nevertheless, those moves, those eye-fucks (reminiscent of Constantine Maroulis), that growl. Holy crap, it's getting hotter.


AJ Tabaldo - "Feelin' Good" (Nina Simone) 4
Whoa AJ, I'm actually pretty impressed. I really love this song and when the instrumental parts of it. I was surprised at AJ's song choice and how he again, dedicated this to his parents (still, it's a better dedication than Jared's). But his vocals were great, except for that one note near the end, but really, I'm surprised at how I liked AJ's performance so much. His moves were fun to watch, but definitely strangely comfortable on him. Keep him in Filipinos! Vote away!!!


Sanjaya Malakar - "Steppin' Out With My Baby" (Tony Bennet) 7
Just listening to his vocals, they were actually good. It was calm and cool and not belting and screaming and I appreciated that. So it wasn't the best performance of the group, but I still want to Sanjaya to stay because I know he can get better. The Jacko outfit wasn't too bad, but maybe he can dress differently next time.


Chris Sligh - "Trouble" (Ray LaMontagne) 5
Chris is married?!? I'm probably the only one who wasn't paying attention during auditions, because I'm not sure if this was mentioned. I do think Chris did great vocals on the song. I think it was better than Taylor Hicks's version last season. I was a little bored, but I guess this song isn't really very exciting. But so much better than last week. Go Chris S for muting yourself and toning down a little.


Nicholas Pedro - "Fever" (Peggy Lee) 8
For some reason, I shall forever have Jan Nieto destroying this song for me. Nick didn't do much to salvage it either. It was a little boring, although his vocals were okay. Still, they're supposed to be in the competition for the win and I just didn't feel it from Nick. It was blah.


Blake Lewis - "Virtual Insanity" (Jamiroquai) 1
The boy knows how to beatbox and where to put it in. I love his song choices. This guy always manages to choose songs that aren't usually sung on Idol and I appreciate that. The fact that he pulled off the vocals on this song was amazing too. It's not something you usually sing in a singing competition, because you groove to it more, but props to Blake for pulling it off. Again, not the best vocals of the night, but definitely the best performance.


Brandon Rogers - "Time After Time" (Cyndi Lauper) 10
I like Brandon. I freaking ranked him 3rd last time. But this week, I just can't seem to enjoy this. His vocals were just okay, but it totally bored me to death. There was nothing special about it and it was just all wrong. I'm so afraid that he'll be booted out and really I can't blame the public for not voting him after this one.


Chris Richardson - "Geek In the Pink" (Jason Mraz) 6
I'm not Chris R's biggest fan, and yet this song was a really good choice for him. I thought he did it well, but I don't agree with Randy when he said that Chris did it better than Jason Mraz because Jason > Chris. I do believe that if Blake did this song, he would totally pull it off too. But hey, props to Chris for doing this.


Sundance Head - "Mustang Sally" (Wilson Pickett) 9
I just don't like Sundance. Sure, he got way better than last week, but in my scale, it's still not good enough. The song was upbeat, but I wasn't feeling it. It's just him and his voice don't do anything for me except probably make me cringe. Sundance must go right now. Wishful thinking, much? However, I do think Sundance's kid is really cute -- complete with mustache. And since Sundance misses his baby, maybe he should go home.

My Bottom Three
1. Brandon Rogers
2. Sundance Head
3. Nicholas Pedro

As I compared this week's ranking to last week's ranking, people have been moving up and down. Only a few have been consistent according to my not so objective scale. It was a better night for the boys and I'm hoping this means that they'll keep getting better every week. Hopefully, keeping our boys of choice in the running, while kicking out the unworthy ones *cough*Sundance*cough*

It's really anyone's game. Still, thanks to good old trusty DialIdol, it's safe to assume that once again Votefortheworst has worked their magic. Sundance Head is number 1. Ew.