I have thought of nothing but how the girls would perform today. Unlike my usual no class on a Thursday morning, I had to go to school so I had no time to listen to spoilers. When I got home at 5:30, American Idol was about to start and I was more than excited.

I was even more shocked that Pamy came home early. Idol-watching just isn't the same without her. From the beginning, I was cheering the boys. I really hope the girls change my mind. Bring it on!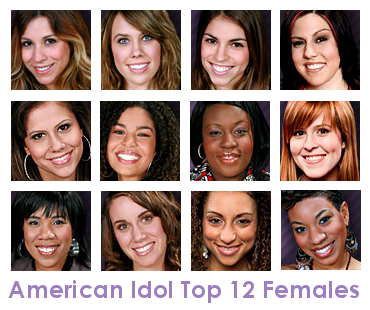 Stephanie Edwards - "How Come You Don't Call Me" (Alicia Keys) 4
First off, amazing song choice. I love this song to bits, Alicia Keys is the shit. And it's not an easy song to sing either (I've tried in my shower so many times). I love how Stephanie was calm about her performance and let her vocals stand out because they did all the talking. I didn't even realize that she had gone down on her knees (on that lyric in the song) because it was so apt. She started the night off fabulous!


Amy Krebs - "I Can't Make You Love Me" (Bonnie Raitt) 12
I thought she was boring. I don't know if it was song choice, because when Maria Bello sang it in Duets, I actually listened. Personality of a candle? Could be. Simon was right because there wasn't really much that I remember from her performance. There wasn't a high point the song and her voice wasn't exactly the best either. So all in all, nothing much.


Leslie Hunt "You Make Me Feel (Like A Natural Woman)" (Aretha Franklin) 11
Did she remember to breathe? I thought that Leslie was mostly gasping for air and I wasn't liking it. I thought Apple Chiu's version of this in season 1 of Philippine Idol was so much better than that. She looked a little awkward with her movements, but her outfit was cute. The song was too big for her. The Dawg, Randy was right. Not good. She's a cutie though.


Sabrina Sloan - "I Never Loved a Man The Way I Loved You" (Aretha Franklin) 3
Vocally good, this girl has pipes in that small frame of hers. To think I wasn't even a big fan of her song, but she made me want to watch her and listen to her. Her subtle moves were enough and not annoying to watch. I thought she gave just enough presence on stage without being over the top. And I like the way she doesn't have that self-pimpage-side. Just great vocals and they stood out on their own.


Antonella Barba - "I Don't Wanna Miss a Thing" (Aerosmith) 9
4A represent! I happen to love this song and Antonella didn't give it the vocal prowess it deserved. She started off okay, but then it got weird when she started giving it all these riffs that just didn't seem to match the part of the song. I have to say she looks good, very pulled together. She didn't have much stage presence and her vocals were just okay. But her prettiness and her little scandal will probably keep her afloat. And she's number 2 on DialIdol so that's it.


Jordin Sparks - "Give Me One Reason" (Tracy Chapman) 5
I don't care how young she is, Jordin gave a great performance. She had enough spunk and her vocals were good. Her age was totally not a factor because she brought it. It was fun and my eyes were glued on her the entire time. I wanted to get up and dance with her. Also her song choice wasn't the usual thing to sing, yet it wasn't too far out. It was just right for her voice and it's nice to hear different songs. There's just been too many Aretha-types this year. Go Jordin. I hope she makes it far.


Nicole Tranquillo - "Stay" (Chaka Khan) 10
Was it just me or was it a little nasal? And she was yelling the entire time. I mean she can belt, but it was a really odd performance. Maybe Randy was right because I didn't get her performance either. She looked really pretty though. I think Paula said it right though. It's not the song for her but she can sing. Girl, hold on the yelling though. Because you can sing a song on your normal voice without screaming the entire time. I'm deaf now.


Haley Scarnato - "It's All Coming Back to Me Now" (Celine Dion) 7
First off, I love this song. I'm a closet Celine Dion fan and I was singing to myself the entire time. Haley got the pimp-spot (lighting-wise), she had all those spotlights and all on her. I thought she did good. It's hard to pull off this song because it's been done in so many other contests that I was expecting something different that she didn't bring. I thought she ended a little weirdly, considering this song has a really good ending. There's still room for improvement though.


Melinda Doolittle - "(Sweet Sweet Baby) Since You've Been Gone" (Aretha Franklin) 2
Her first notes gave me the shivers. This girl has been a back up singer for too long and it's her time to shine. Shine she did. She was so comfortable on the stage, I was having so much fun watching her and listening to her. This girl is a professional. The difference between Melinda and the worst singer is just light years away. Being sandwiched in between other singers, Melinda still brought it and made me forget about the others before her.


Alaina Alexander - "Brass in Pocket" (The Pretenders) 8
I'm confused with this one. She had okay performance which I did watch, but there was nothing in the performance that will make me remember it. Still, I think she did better than Antonella, but there were times that she was off key. She looks really pretty though, and I hope that it'll carry her through. I feel like she can do better next week -- hopefully with a better song choice too. But if DialIdol is to be believed, then she's leaving tomorrow.


Gina Glocksen - "All By Myself" (Celine Dion) 6
I'll say it now, I'm not a Gina-fan, but wow, she started the song and I actually stopped typing to look at her. Her vocals were spot on and she didn't make the song sound like some sappy love song. Yet she didn't over-sing it or "rock-ify" it to make it too different. Her vocal powers were enough to carry that song and make it her own. This is coming from a non-Gina fan, at that. So as much as I don't want to see her in the Top 12, I'm going to say she could actually deserve it.


Lakisha Jones - "And I Am Telling You" (Jennifer Holliday) 1
I'm' not a fan of this song. Not Jennifer Hudson's version, not Mau Marcelo's version. I just don't like this song. But that doesn't mean to say that Lakisha didn't do the song justice. She pulled all the stops and made use of her final spot to really give the show that last performance boost. I will remember it because of her stellar vocals and her stage presence. And god, that last note went on for forever. Vocally the best. Simon was right though because the others should be packing their bags. This girl is in a league of her own.

My Bottom Three
1. Amy Krebs
2. Leslie Hunt
3. Nicole Tranquillo

The girls definitely gave a better show than the boys and it's sad because I was actually rooting for the boys at first. But after tonight's show, I might actually start cheering for girls. Still, it's only week one and there's still so much that will change. Melinda, Lakisha, Stephanie and Sabrina brought it for me. I want to see more from them.

I can't wait to find out what happens tomorrow. First four to go and I'm really nervous that some who's unworthy (*cough*Sundance*cough*) will stay and someone who was totally awesome, like Sabrina, will get the boot. Oh America, it's all on you. And finally, contrary to my icon. The girls weren't Eww at all.