I think it's safe to say I'm over my hell week.

Or at least I hope I am. After finishing my three rounds of the academic oval (in 47 minutes and 46 seconds), then moving on to guessing whether it was true or false (100 times over), then finding out I wasted my time over a quiz that didn't happen and sitting through the last part of One Flew Over the Cuckoo's Nest (I was rooting for Chief from the beginning, I finally collapsed onto my bed when I got home that evening.

Can I just say how difficult the Comm 140 test was? 50 items true or false of the most confusing questions ever, lifted verbatim from the book, plus another 50 matching type definitions with 10 additional definitions just to mess up your head. I know that reviewing does help, but I didn't feel the advantage of studying. Instead, sleeping at 3am made my running suffer. With only the first round of it, I was already so exhausted. Obviously the lack of sleep is to blame. I'm lucky I even finished the entire run. My chest, lungs, legs, head, knees, ankles, back, ass really hurt.

Still, there's much to do for my other classes, but I finally decided to just bum away the weekend. I went to Gela's 20th Birthday last night and it was nice to see Klar and Sam again. I used to see these people everyday and on weekends too, and now I barely see them. The only time we see each other are during birthdays of common friends. Sometimes, I miss high school's monotony. Really.

It was a feat for me too -- driving all the way to Makati (alone and at night). I'm proud to say I made it alive going and coming and didn't cause any accidents along the way. And I tried being a good girl, since my parents allowed me late at night and all -- I came home early on my own volition, no one had to text me asking what time I'd be home, because I was very very good. Yay for being a good daughter.

Now, I have nothing against Tyra Banks. I love America's Next Top Model, but this scared me a little. I can see how strongly she feels about this issue and I can't really blame her. I'm all for woman empowerment and feeling great about your body. But woman, get a hold of yourself. There's a more dignified way of handling things.




But hey, that wouldn't have made for great television. It worked. Now, I actually want to watch what she does have to say. I'm such a sucker for bad television.

And I know that the Screen Actors Guild Awards were a week ago, but I haven't really been able to pay attention to anything other than my beloved Littlejohn this week, so this really made me smile. Head on over to
mediocrechick's SAG Red Carpet Report.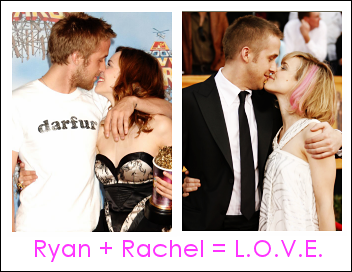 Ryan Gosling + Rachel McAdams are just love. I would literally kill over and die if these two broke up. I loved them at the MTV Movie Awards where they re-enacted their winning kiss for The Notebook and didn't stop looking out for them since then. And then at the SAG's Red Carpet, they were just too too adorable. They obviously have a favorite pose. What I wouldn't give to be swept off my feet that way. Only 10 days until V-Day. ♥