I don't think I've ever sat through 4 hours of radio-listening, until yesterday.

And it wasn't so bad after all. BC 101 gave me 4 hours of commercial free radio, with the most varied themes you can think of from the most talented DJs ever (I'm biased beyond belief, of course). 15 minutes of children's songs to 15 minutes of Urbandub to 15 minutes of 15 minutes of just about every other genre you could think of. Hats off to my 15 classmates who made my morning so wonderful.

I sat in Sir Nadera's MP 170 class and to say I don't miss his class would be a lie. I had the honor of reading Ruth's parent's love story and it was just fun sitting in, knowing I wasn't being graded at all. I don't regret getting into MP 179, but I sure do miss our class at the ICW.

I slept through yet another film showing in Bio 1 and thanks to my lovely seatmate Epy, I still managed to wake up before the classroom emptied out. Bio 1 is not my best subject at all, considering I'm about to flunk the exam and am just totally bored with the subject. EEE 10, where art thou? Seriously.

I'm really just raring for this week to end because that would mean my Freaky Friday would be over. That would mean, my Running for Fitness Midterms (3 rounds of the academic oval in under an hour -- a total miracle for me) would be done; and my Comm 140 Midterms -- 180 pages of pure unadulterated love for Stephen Littlejohn -- can finally go to hell. I really hope me and my co-Varona-babies (Hazel, Mara, Alfie, and Andrew) make it out alive.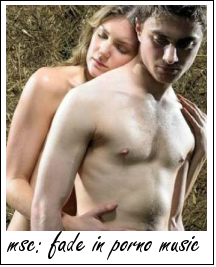 Well, well, well... Harry Potter sure grew up. Who knew this chest was hiding underneath those Gryffindor robes? Or that those abs were trapped underneath his Quidditch gear. I wasn't even that big of a Harry-fan. I liked Ron a lot more. But with this little discovery of mine, all thanks to the lovely JustJared, Ron can take a little hiatus.

I think the next Harry Potter movie should be set in a beach-type setting -- like say they go on holiday to the Carribean, and Harry's trunk of clothes gets mixed up and he has no clothes to wear. Poor Harry, he'll just have to settle for walking around without a top on.

I think the white horse in the background is a little bit on the porno side, but hey Daniel Radcliffe half naked is still Daniel Radcliffe half naked. Beggars can't be choosers after all.

Do I care what this movie is about and who else is going to be in it? Not really. In fact, I hate to admit, but I didn't even read the blurb that came with the picture. I'm glad Daniel is excited about it, because I sure am excited for it (for totally different reasons of course). Now how are we going to smuggle cameras into the theater where this will be staged? Because it would be a total shame if Daniel does this every night, and there is absolutely no documentation of it? Somebody scan the Playbill for goodness sakes. But really, I can settle for grainy pictures like these for now. Really. Hello right-click/save.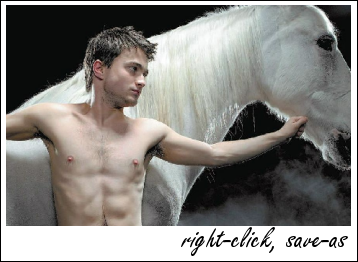 Photo Taken from JustJared
Daniel Radcliffe, best known as the boy-wizard Harry Potter, is set to star in classic stage play Equus later this summer about a young man who blinds six horses in a torrid ritual.

Daniel said, "I'm really excited to be part of this production. I'm thrilled to be working with Richard Griffiths (Harry Potter's Uncle Vernon Dursley) again. This is obviously a huge departure for me as an actor, but Equus is such an amazing play that this really was an opportunity not to be missed."

-- taken from JustJared