It happens all the time.

It's already BC 101 tomorrow and I'm still clueless as to how I'm going to crossfade my songs and segue them and the sequence and just how many songs I'm going to play. This is not good. To think it's a DJ Production, so I shouldn't be stressing too much. But finding songs that sound good together and all that jazz wasn't as easy as I thought.

We ate dinner at Sumo Sam in Rockwell last night and the food was amazing. My devotion to Japanese food still lives on. But the interesting thing was, while waiting for a table (for seven), we saw that Maria Resa was inside eating with a bunch of friends.

I am probably the easiest person to get starstruck. And right there and then, I got all fangirly. I remember seeing her at the Pinoy Media Congress and I thought she was one of the only people who actually made sense and made me want to listen. Anyway, when she walked out, I noticed she was dressed really simply (despite all her clothes being branded) and she looked really approachable. Unfortunately, I didn't ask for a picture, as I had no camera and I left my guts at the door.

When we got seated, we were placed at Maria Resa's former table, so I made sure I sat in her chair, if only so that a bit of her success would rub off on me.

Then in Fully Booked, we bumped into Niko! I don't think I've ever seen Niko in Power Plant, so that was a bit of a shock. It was nice to see him and chat a bit. When I'm less busy (as if I'm less busy than my truly busy photographer-cousin), I promise I'll drop by the studio and we'll finally have some icecream.

Here goes nothing.

Thanks to
thisismorning for your holiday card! I got in the mail and it's beautiful. Glad you received mine before the next holiday rolls around.

Oh, and this just can't be the young Hannibal Lecter! He's just too damn cute. Gaspard Ulliel is seriously giving me a reason to toughen up and go watch the thriller Hannibal Rising. I'm not even a fan of scarier movies, but this guy just makes me want to watch.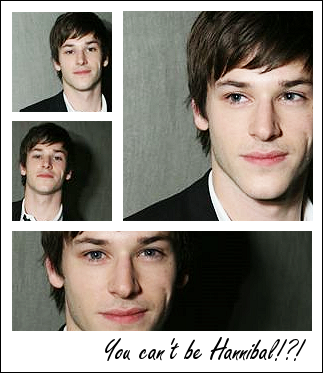 Photos taken from JustJared