And so the school work continues to pour in. I don't think I've ever been this busy. Busy enough to actually ignore the computer when I'm free. When I wasn't swamped with work, I was actually too tired to sit in front of the computer (seriously a first for me).

Somehow, March 23 seems soooo far away. I just can't wait 'til summer comes around because I feel like I'm just constantly living for Mondays (when BC 101 productions are) and Fridays (to see if my MP 179 script will ever be approved). Of course, there's Comm 140 in between to keep me busy with Littlejohn and the many GEs I have and of course, the torture of running for fitness. So really I can't wait till the 58 days are finally over. I want my summer.

Monday afternoon, after a hiatus from any social interaction with friends, I actually hung out with some orgmates. I was the stunt coordinator bag-lady/sound person for Bikoy's class exercise. Con was fabulous as the script person/writing down all those scenes thingie. I'm obviously not a film major thus I know nothing about what I was doing. I just know that it was funny to watch Christer and Ayeen say these lines over and over again and actually look natural while doing it.

Hey, I got a free dinner and a free ride home out of it, so I'm not complaining. But more than that, I was able to hang out with college friends again. Something I didn't get to do much last week, as I was catching up with high school friends.

Kim went back to San Francisco already and it's sad that I only got to see her twice when she was here. It's so weird too that I have to set meetings with my high school friends before I get to see them. If Hannah didn't turn 20 last week, we wouldn't have a "reason" to make time from our "busy" schedules to have dinner. Hannah's surprise birthday in Teriyaki Boy last Friday was fun. I hope to see more of my high school friends this 2007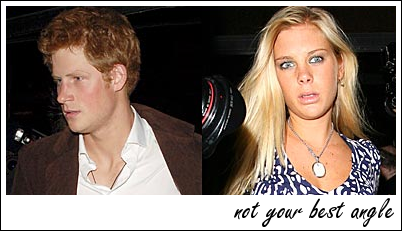 Photo taken from JustJared


In other non-me news. This just doesn't make me happy. How can Prince Harry seriously want her? This is obviously a bad shot of her, but that's not the point. I better get on my running so that I can qualify for the 2012 London Olympics where I could finally meet and seduce Harry.