And yet another week over. Days fly by just like that and I find myself accomplishing nothing once again. I have to say that these past two days have been quite good to me, despite the amount of work I actually have to accomplish.

My so-called Bio 1 quiz got postponed for a later date and instead we watched two films that gave away the answers to our exercise. If only our exams were all this way, I would ace that class. Wishful thinking of course. Bio 1 finished before I knew it and I headed to CMC to attend my org's acquaintance party for the applicants. It was held in my former Comm 100 classroom and I feel bad for the applicants because my god, we're so plenty.

I had to memorize around 50 names and courses and all the details that came with it, but they have to memorize 60 ++ that's just crazy. Still, this batch looks really fun and bibo so I can't wait to see how the process goes.

I wasn't able to run an entire round for PE without stopping. I'd like to blame it on exhaustion, but I slept pretty early the night before. I'm just out of shape. Iron Woman Boom (aka the sweetest running partner ever) just kept running and pushing me to finish the entire two rounds. We beat our old record by 10 minutes! So not bad.

Comm 140 was great for me because I finally got my picture posted in the CommRes department. I know it'll probably be the only time my face is up there, so I'm going to go and take a picture of it in Hi-Res as proof. Maybe one day I can show it off to my granchildren (gasp!) with Wentworth Miller. As if.

And for the first time ever, I wasn't late for Art Stud 2! I really want to show my professor that I'm serious about his subject. If only he'd realize that I can't do anything about being dismissed late. We were asked to list down Kris Aquino and Manny Pacquiao's many endorsements. I think we almost completed it. But boy do these people endorse everything and anything. I think they have a total of 30+ endorsements together. You just can't miss them.

We had a skit thing in Anthro 10 and we almost won twice. We almost made it to best skit and we almost scored the most points. This is frustrating for me because we were almost there and we still didn't get it. Rawr. High point of the class was being in the same group as class cutie Justin (who I'm not sure is straight). I love game groupmates and he was definitely game. Now if only we were seated next to each other.

I was kind of nervous for MP 179 because our story lines would undergo sir's scrutiny and the class's mockery if ever. I thought I was going to get away with not being called, but sir managed to slip me in last. I know sir wasn't going to love it, so I was happy with the results. I have to revise it a bit and submit again for approval. I'm just dreading writing a full-length movie script in Filipino. I can barely string a few lines. I'm so horrible.

I was going to make my BC 101 script ahead of time so I could practice with Claire early on, but obviously that didn't happen. It's a good thing she's free tomorrow morning so we can rehearse. This is 25% of our grade so I really need to pull this one off. Nervous doesn't even cut it.

Not as weird as Marilyn and Evan, I present a not-quite-weird-more-but-more-like-ewwww couple. Here are John Mayer and Jessica Simpson! I know this is old news, but I've never seen an actual photo of the two of them together where it didn't look pasted on.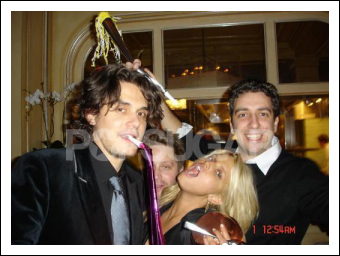 Photo taken from PopSugar
Jessica Simpson has a smile on her face again — and insiders say it's all thanks to singer John Mayer. But Jessica's friends are worried that she's more serious about John than he is about her. For example, when he went home to spend the recent holidays with his parents in Fairfield, Conn., he never even mentioned his new girlfriend. "Jessica didn't come up once in conversation," John's dad, Richard, tells In Touch exclusively. But Richard insists his son is "very private" about his love life. "We never pry," he tells In Touch.
-- taken from PopSugar
Still, John Mayer could do so much better. I know that he isn't at the prime of his looks anymore (I still vote for his Back To You haircut and over-all look; he was just much much much cuter), but hello, Jessica Simpson? You know you can do so much better. Take a hint from Justin Timberlake and venture on to greener pastures! Seriously. You can do so so so much better.

PS: Thank you a bazillion to
holdmesam!!! I just got your holiday card and it's so freaking pretty! I love the stud accents. You certainly brightened up my day! I hope you do receive mine before the next holiday season rolls around! Cheerio!