The week is halfway over and yet the work is not yet done.

I had my second production last Monday for BC 101 and though it wasn't perfect, I have to say that I am so freaking happy it's over. As a director, I had Sandy interivew Andrew for a religious-themed show in Filipino. Slap my hand! I'm not the most religious person on earth, I don't speak Filipino oh so well and I don't work well with others. Yet, I was able to pull this off with so much help from my kick-ass crew: AD Luis, TD Alfie, Spinner James, Host Sandy and Guest Andrew.

It was such a rush going from Director to AD (for Hazel) to TD (for Loren) to Spinner (for Mae) to host (for Claire) and Guest for (Jayjet). Yeah, I stank as a director, as I was so passive, relying too much on my script. But hey, there's always room for improvement anyway. I just don't want to see my grade when it returns.

Yesterday, Boom and I ran the entire academic oval twice! Okay, so we only ran the first round and did that alternately on the second round. I'm so proud of the two of us because we actually RAN the entire oval (during the first round) WITHOUT STOPPING! This is a major feat for us. We ran it. Then of course, fatigue got the best of us.

Scary part was, during the second round, this random dude from the other running class, walks with us and asks for Boom's name! Oh lordy. Now, I know we should be nice because he was being "polite" about it, but for some reason, we both got freaked! Boom gave her name and we tried to be nice. So this dude and his partner were a few feet in front of us and weren't running. It was like they were waiting for us. And they actually were. The guy turns around and comes back to us and asks for her surname! Boom was thankfully didn't give it and that just gave us the boost to start running again. I swear, we're both wearing jogging pants next week. I think it was Boom's shorts and gorgeous face that attracted such characters.

Of course, if it was Wentworth Miller asking, I would have given my name. But alas, it wasn't.

Then I had the dreaded Comm 140 second quiz. I really had to do great because my first quiz was just dismal. I tried studying ahead of time, but that just never works for me. So I ended up really "studying" Monday night. After writing everything down, I fall asleep. Whee. That just makes things so much greater. The quiz was blah and I don't know what the hell I'm going to do with those results.

And though it's my free day Wednesday, I still have to study for my Bio 1 test tomorrow, make the new BC 101 script for Monday so I can hopefully practice with Claire tomorrow. And really, all I want to do is sleep. But no, school has already kicked in. Boo.

And finally, if y'all want a shocker, here goes: Evan Rachel Wood is Dating Marilyn Manson!
The sources say his relationship with the Thirteen actress was a factor in the Dec. 29 divorce filing by Von Teese, 34, Manson's wife of one year.

"Dita is heartbroken, she didn't see this coming," says a source close to the burlesque dancer and MAC cosmetics model. "His partying contributed to the split as well."

Manson, 38, and Wood have been friends for some time. According to his official website, Manson first met Wood when he asked her to be in his upcoming horror film, Phantasmagoria: The Visions of Lewis Carroll.

-- taken from JustJared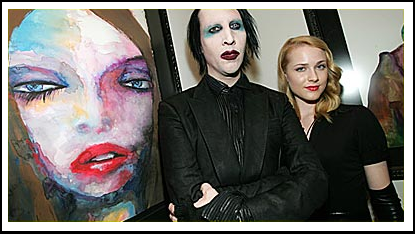 photo taken from JustJared

Okay. This is just shocking. I love this girl! I used to want to be her. We used to cast her in every imaginable part for the movies we made up in our minds. She was a GossipGirl, she was Turtle Wexler, she was everyone. She was so cute with Jamie Bell in Green Day's video. I wanted THEM to be together. Oh well, let's just see how long this will last.

EDIT: THANKS a bazillion to
mellowdee!!! I finally got my FIRST holiday card and it came from you! Our postal system sucks big time and I really hope you get my card soon too! At least before next Christmas. Thanks so much for the Spring Waltz photo. You are ♥