And it just keeps getting better.

From standing in the sidelines, to scoring seats in the balcony and now, front row seats. Our Philippine Idol experience just keeps topping the last one. And I really don't mind. Despite worrying that Gian hadn't left our tickets at the counter, we actually made it to the front row -- smack in front of the band.

And tonights performances were just as great as our seats. The top 5 delivered (save for a few mishaps **cough**Jan**cough**) and the show was at its best. There were so many fans around and the crowd was noisier than usual (or maybe that was just me screaming). Lea Salonga was an amazing judge. She was honest and professional and she made sense.

I don't know how tonight will ever be topped.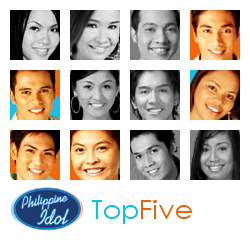 ROUND 1: Songs from Movies

Pow Chavez - So Far So Good 4
Her title just says it all. I have to admit, I wasn't paying attention at first, but that's because I was watching her video on the screen, and of course reveling in the fact that my seat was practically kissing the stage. Concentration was so hard to muster up. Still, despite Pow being ranked 4th for this round, I thought she gave her usual great performance. We could see Lea Salonga really dancing to Pow's singing.

I don't care what Mamita Pilita says, Pow looked fabulous without the dress (still clothed though!). Performance wise, Pow was consistent as usual, sure her vocals weren't perfect, but they were far from sucking **cough**Jan**cough** She made me want to get up and dance, except my shoes wouldn't permit it.


Miguel Mendoza - Growing Up 5
I'm sorry Miguel. You're obviously cute. Again, if I were back in highschool and I met you at some random soiree, I would probably be gaga over you. But compared to the rest, your performance was just normal. And I don't want normal, I want something that makes me want to watch YOU and not your video (which was so entertaining -- Reymond Sajor as Raymond Lauchengco, who I super crushed on after watching Rama at Sita -- I digress). Miguel's vocals are good, no doubt about it, but that's just it. Vocals is all he has. And they may be good, but they're not fabulous either.


Gian Magdangal - Sana Ay Ikaw Na Nga 2
Sana ay siya na nga ang Philippine Idol. The minute Gian walked out onto that stage, I swear the theater got HOTTER. I don't know what the hell Mr. C was talking about saying that he lacked warmth, because he totally brought the temperature up. In that crisp cream colored suit, I wanted to jump out of my chair and rip of those beautiful clothes. Gian looked very GQ and that's putting him in the leagues of my Jake and Pamy's Daniel. Seriously. He was hot.

Looks aside, I thought Gian had stellar vocals on this one. The only orientation I have with this song is when it was the title track of some soap on some channel (I honestly can't remember), but his rendition rocked me to my core. I didn't hear a single sour note and he finally finally finally ended his song well. I notice that Gian tends to end songs abruptly, but this time around, he at least gave it a little special ending.

I don't know why Mr C is being so tough on him and so easy on others **cough**Jan**cough** but Gian brought it. And his video. His video was so cute. I actually wasn't annoyed with Apple for being the lead girl (oh no, scary stalker Patty talking), I actually thought the video was adorable. Lesson learned though, don't buy an engagement ring if you're not even sure of the girl's status. But really, Gian, I'm so free. So just holler and I'll take the ring off your hands and onto my fingers.


Jan Nieto - Bakit Ngayon Ka Lang 3
First off, props to Jeli Mateo for giving the most convincing 'mistress-act' ever. I so sympathized with her and she really got me on her side, despite being the querida. I loved it. Jan on the other hand was just blah. If Miguel was normal, Jan was blah. Yes, he ranks third because his vocals are "improving."

But seriously, at this point in the competition, I don't want to see improvement, I want to see GREATNESS. I want to see an Idol and Jan IS NOT an Idol. I don't feel him at all. Vocally impressive, but performance wise, he was just AWKWARD. I can't watch him. According to Lea, he's not ORGANIC (our word for the night). Jan has to go. Please. I hate how his vocals save him. Because his performance and over all whatever was just whatever.


Mau Marcelo - Diamonds are Forever 1
Not the best actress, I found her video kind of awkward. But who needs a video when you've got Mau's talent. She gave me shivers when she performed. I loved how the band incorporated the Bond Theme to her song. But all that aside, Mau just delivered the diamonds. Mau is obviously a star and I really hope she doesn't get the boot. Okay, so I was a little miffed that she outdid Gian, but I'll give it to her for this round. Mau was super duper WOW.

ROUND 2: Songs from Musicals

Pow Chavez - I'd Give My Life For You 3
Pow's vocals are just beyond me. If Lea thinks she was good enough, who am I to say otherwise? It's difficult performing a song that your judge sang at a play that she won Tony Awards for. Pow pulled it off. Sure she wasn't ORGANIC at times, but who the hell cares? She made me want to go up there be her Chris (in a totally non-lesbian way).

She looked cute in her costume, but honestly, she didn't have to do that. Who gives a crap what Mamita wants? Oh yeah, Mamita just won't stop. And to think she was already wearing the dress, Mamita just had to bring up her wardrobe again. Hello? Can we judge her amazing vocals perhaps?!? Pow's second performance was vocally better than her first, but her first performance still reigned with the way she worked the crowd. Pow HAS TO STAY.


Miguel Mendoza - Can You Feel The Love Tonight? 4
Did I feel the love? Unforunately NO. Again, vocally good, his performance was even duller than the first (if possible). The thing with Miguel is, despite being dull, at least I can watch him be dull. I can't say the same for others **cough**Jan**cough** Miguel's clothes were also kind of off tonight. I don't know why he's so into the vest with tie and shirt tucked out, maybe he's trying to look young, but it just wasn't working for me. I wonder why Mamita didn't mention anything about HIS outfit. Yes, not crass to look at, but still a little disturbing.


Gian Magdangal - Grease Lightning 1
I'll be honest, I was so afraid when I saw that this was his song choice. Grease reminds me of 2nd year high school, when my section put up a very very amateur version of Grease starring none other than Lee-Ann Caro as Danny Zuko. This is not a song to showcase your vocals on. It really all depends on your performance. I was so afraid up until the moment Gian started to sing. But really, Gian DID NOT LET ME DOWN.

THIS was a performance. THIS is an Idol. THIS was just too good to be on the show. It was like something out of a professionally done musical. When Gian started to speak at the start of the song in his totally adorable Danny Zuko outfit (complete with cuffed pants), I was in squee heaven. Guia (another Gian fan behind me) and our side of the stage stood up and just danced the performance away. It was too too good.

I'm glad Gian pulled it off because tonight was supposed to be tailor made for him and it would have been devastating if the judges put him down. That would be like a double bullet if he didn't pull of the musical part, but thank goodness he did. Gian just tore up the stage with all his antics. I loved how he was so comfortable dancing and really giving it 300% I wanted to get up on stage and dance with him. It was just so professional and so entertaining.

Gian was not only ORGANIC tonight, but he was also ORGASMIC. When he got on his knees and faced our side of the audience to do a hip thrust and at the same time quasi removed his jacket, to reveal a very nice fitting white shirt, I almost fainted. Talk about multi-tasking. This guy is the shit!


Jan Nieto - Corner of the Sky 5
Lord god, go stand in the CORNER, Jan. Even your good vocals COULDN'T SAVE THIS PERFORMANCE. Seriously. I could NOT WATCH him. Lea was right. The poses and facial expressions were just BEYOND DISTURBING. Can Jan sing? Yes. Can Jan perform? HELL NO. Can the first Philippine Idol just sing and not perform? OF COURSE NOT. Therefore, Jan CANNOT be the first Philippine Idol.

His performance was so excruciatingly painful to watch. I don't even get his back up dancers. I know its probably not his idea, but I think he can say no to something, right? It was just so awkward to watch. And there he went again showing off a little patch of skin in his outfit. I swear, I wanted to tie up laces of his shirt to keep in those pecs. Ew.


Mau Marcelo - And I am Telling You 2
Vocally, too fucking good. Performance wise, I wasn't as moved as her first one. Still, Mau knows how to bring and she brought it. Wearing the dress with the slit up so high was too kick ass of her. I salute her for her gutsy-ness and her not caring about what the hell Mamita will say. Her vocals were so good, I was shivering in my seat, and no it wasn't the air-condition.

Still, if I had to choose which of my personal top 3 would get the boot, I'd say Mau. However, it would be a major tragedy if she was kicked out tonight. Her performances were just so good, it's crazy how she still has to compete with the others on the show. She's on a different level.



My Bottom Three
1. Pow
2. Jan
3. Miguel

I really hope Jan gets the boot. Improving is not a basis for staying. He's got to be great and fantastic. I really hope that Gian and Pow stay because they are finalists who scream Idol material. They've got it all and I hope they also have the votes. Monday evening cannot come fast enough.

It all amounts to three hugs, two besos and a lot of hand holding while talking. I know Gian is very good with his female fans and that's why I'm so enamored. In fairness, right after his first performance, he came down the stage and exited to our side. He said hi, grasped my knee and gave me that, did i mess up look? I so wanted to just pull him down and plant one on him. But alas, I have self-control.

After the performances, he comes down the stage and before I can even walk over to him, Gian's already pointing at me saying, "hey patty!" Seriously. How can I not just die and go to heaven? After giving me a hug, I congratulate him on his tremendous performance and he's so grateful. This guy is just too adorable. He apologizes after hugging me because his sweat *squee* has transfered onto my cheek. My mortal cheeks have been graced by Gian's sweat. I know understand why Britney Spears' bread crusts sell on E-Bay.

Pamy and I go around to get pictures with Pow and Reymond and I wait for Gian to be alone. It takes forever as everyone seems to want to have a picture with him. Tonight was his and Mau's night and the crowd knew it too. While waiting around, Mr. Magdangal (Gian's dad, whom I accosted before the show, out of sheer desperation for our missing tickets) greets me, "Good evening Ms. Lazatin." How cute of him. I swear I know where Gian gets his charm. This man still charmed me. While looking for our tickets, I actually gather up the guts to talk to Gian's dad and he was really nice about it. As usual, vocal diarrhea ensued and I ended up probably sharing way too much.

Finally, Pamy and I decide that we must return to our real lives (drat!) and we say goodbye to our Idols. But not before Gian gives me yet another hug and a constant reminder to keep in touch and to just text him. If I didn't crush on him hard enough before, I don't know what level he is on now. Again, more sweat transfer, but Gian is too adorable that he could literally press his sweaty body up against mine and I wouldn't mind. Who wouldn't?




EDIT: Shout out to Jove Francisco (my Idol-Idol blogger). It's been an honor sir. Getting a shoutout from you just made my day. I was going to give you one, promise, but it totally slipped my mind (just like how Mau's recap was cut short).
Shout out to Patty and her sister! Nice to have finally met the two of you, happy blogging! Patty, you looked "orgasmically" (ikaw nagsabi nyan sa blog mo) happy last night, near Gian! Hehehehe. Just joking.
--taken from JoveFrancisco.com
And another shout out to Noemi Dado (yet another Idol-Idol blogger). I was actually shy about saying hi to you. You always have fabulous pictures though and I really think I saw your daughter. I'm so flattered by your shout out.
And I met Patty. I'm glad she said "HI" to me. I'm happy she finally found a way to see Gian live and have photos at that. If there is a will, there is a way. Now that's what you call a fan! Gian is definitely lucky to have dedicated fans like Patty.
--taken from Blogged - On Pop Culture and Entertainment