Pilita Corales has gone too too far. What she said to Mau after her performance was just out of line. Mamita has talked about weight too much on the show. She talked about how Stef needed to lose weight (yes, I actually remember things concerning Stef too), and now she does this to Mau. This is just crazy.

Does she realize that she's totally promoting the wrong message? That only thin girls can pull of a song like that? They can put a stick up there and she may look amazing, but Mau has the voice and that's all they need to judge. Yes, it's about performance too, and looks are part of that, but there's a better way of phrasing things.

I want to congratulate the dancers, they're so wonderful! Mau, that song should be sang by someone who is sexy, slim, and tall. I'm still trying to find out if you would really like to become the Philippine Idol. If you want to be Philippine Idol, help your body!
-- Pilita Corales, on Mau's performance of Shy Guy

I don't know whether I should be happy that she was that blunt (tactless), maybe she doesn't care at all, but I just felt like this was a low blow. Regine Tolentino on the other hand, surprised me as a pretty articulate judge. Although I don't agree with everything she said, I appreciate her effort in trying to deflect whatever horrendous thing Mamita had said. She did make sense about their performances and sure, she ended everything she said with something really perky, but at least her comments were valid.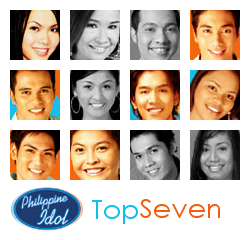 Jan "The Hunky Idol" Nieto - Livin' La Vida Loca 4
I guess the fact that everyone was expecting Jan to totally bomb his performance really worked in his favor. I happen to love Livin' La Vida Loca so this was going to be tough. Vocally, Jan didn't do his best. I know he could do better. However, his "dance moves" were quite good. I appreciate the fact that he wasn't afraid to show that he could move, or that he wasn't afraid to try. He's been sort of like a driftwood in his performances so moving a la Ricky totally earned merits with me. I totally caught him do the passing-of-his-hand-through-his-hair-the-way-Ricky-does-it. Of course, he had to take his shirt off to reveal that tank top and I'm glad he had a body to show</b>, because it would have been embarrassing to remove your clothes and see well, something I'd rather not. Jan was a pleasant surprise.


Pow "The POWer Idol" Chavez - Got To Be Real 1
Mr. C had a point when he said that she should change it up. However, I don't think he should have said that if he wants Pow to remain in the competition. I know voters don't really listen to the judges, however they do carry some weight, no matter how little. Their comments tonight may only make Pow weaker and she does not deserve to go just yet. Pow was great vocally. Her falsettos were amazing. Sure, her performance was like the rest -- at least she's consistent and consistently entertaining at that. I may have seen it a hundred times before, but at despite the "redundancy" I am still entertained each and every time. I cannot say the same for others **cough**Ken**cough**


Miguel "The Hearthrob Idol" Mendoza - Make It With You 7
Did he really think he could go into Club Night with that song? No matter how you club-ify it, it is not something I can dance too and really dance to in a club or disco. And what the hell was he wearing? The sequins in the front were enough of a distraction, he had to turn around to show off his coat tails. Sure, his vocals had some redeeming moments, but his performance was bereft of a performance as he didn't even perform. Miguel is not going to leave us though. Unfortunately.


Ken "The R&B Idol" Dingle - Signed Sealed Delivered 5
Someone give me a gun. We have to shoot his designer. Rather, let's shoot Ken for even agreeing to wear it onstage. I don't know what kind of disco Ken goes to, but I don't think I've seen anyone dress that way and exit the club, breathing sans any wounds or bruises. His outfit just screams, "kill me!" Outfit aside, Ken wasn't as bad as before, yet he wasn't as good as last week either. His vocals were bearable, but his performance was lackluster. His dance steps were half-hearted. I did not want to get up and dance. And I love this song. Nothing much.


Mau "The Soul Idol" Marcelo - Shy Guy 2
Vocally, Mau was the best (as usual). Performance-wise, I agree with Regine Tolentino when she said she could have given it more. I know Mau isn't really one to groove (as proven by her not-so-enticing Crazy In Love moves), but her performance was pretty good. I don't like her outfit too much, though it's much better than last week's Halloween costume. Still, one of the better performances and that's not really saying much. However, Pilita's comments were not fitting and I don't see why Mr. C didn't disagree with the entire body comments. That was just out of line.


Gian "The Livewire Idol" Magdangal - Rock DJ 3
I don't know how they came up with Gian's Idol nickname, but if I were to be asked, he's a livewire because whenever I see him, I feel like I've been electrocuted. I have to admit, this was no Superstar-performance, however, this was NOT and I repeat NOT bottom three worthy either. Gian proved that you don't have to be over-the-top or dance your ass off to entertain others. I like Rock DJ and though I wish he chose something else that could showcase more of his vocals, I'm still happy with the performance. At least he showed that he could do some "quasi-rapping" (though a little awkward) at the start of the song and break into melodious singing during the chorus.

I hoped he would remove more clothing though, in true Robbie Williams fashion, but I respect his wishes and I was actually on the floor already when he whipped his jacket off to reveal a very lovely fitting white t-shirt. I don't know where he buys his clothes, but this guy knows how to flaunt what he's got without showing too much. Then again, I'm surprised I even knew what he was wearing considering how absolutely fixated I was with his hips shaking in the middle of the screen. His hip-thrusting moves that were oh so cool, sleek and subtle was driving me insane.

That killer smile, the great voice, and those smooth moves were enough to make me want to jump into the TV screen and just jump him. I don't know why Gian isn't getting the hot-guy-who's-been-left-alone-broken-hearted vote, but he's surely got my panties in a knot. Whew. Three paragraphs already? I can hardly believe this, oh wait, I'm still replaying the hip thrusts in my mind. Move over Ricky Martin/Jan Nieto. Let Gian shake his bon-bon. Must I really go on to Apple after this?


Apple "The Sultry Idol" Chiu - Lady Marmalade 6
I was expecting a lot from this girl. Though she hasn't been one of my favorites these past few weeks, I thought she would pull this one off. I understand how her outfit was trying to channel some Christina Aguilera at the VMAs with Britney, but Regine Tolentino was right (surprisingly she made a lot of sense tonight). Her outfit was distracting. And her voice didn't do much either. I was expecting Apple to blow me away with her pipes. This was a song that required her birit queen ways, and yet she failed to measure up. She didn't even dance much and her moves were bereft of any oulin-Rouge character. It's sad because the pimp spot was wasted this week. Too bad.


My Bottom Three
1. Ken
2. Apple
3. Miguel

Over all, tonights performances were as I expected (not great vocally, and just alright performance wise). No one really moved me (not even Jan "earth-shattering" performance) and no one really moved. Period. Oh wait, I'm still haveing a flashback of Gian's hips thrusting oh-so-subtely at the camera. However, I'm afraid Gian's going to land in the bottom three with Pow, and they're my two favorites, so I'm really afraid this week.

Despite all that hip-shaking/thrusting activity, Pamy and I were still coherent enough to realize that there was a double-date going on in the audience. In matching white polos, Jeli and Reymond sat happily next to each other, obviously enjoying their front row view and still smitten with each other. Meanwhile, both in black "best friends" Drae and Arms were also so sweetly cuddled next to each other. That little love-fest behind the judges was certainly more interesting to watch than other Idol performances tonigh **cough**Miguel**cough**

I really hope the voters voted wisely (meaning making Gian and Pow safe), because I have a feeling I'm going to have yet another mini-coronary tomorrow. I can't wait for my dose of Lipitor before tomorrows results show.