Last week's non-kick-out night was both good and bad. It was good because at least Gian gets one more week to stay. I felt like he was going to get the boot, though he wasn't even bad. The non-kick-out was bad though because Ken-Ken Dingle has a chance to shape up and prove his worth -- which I must say he did.

Tonight's show was a good one. Everyone was good. Even the bottom three was amazing -- vocally. Unfortunately, it's not just the vocals anymore, but performances too. Guest judge Luke Mijares was nice to everyone and was far from harsh. Still, I think the judges were pretty fair tonight. I just hope Gian doesn't get the boot yet.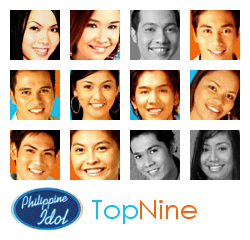 Apple Chiu - Someone To Watch Over Me 6
It's tough to be the first performer. No matter how "good" you are, if it isn't spectacular -- forgettable -- you're really going to fade into the crowd. And that's what happened with Apple. The thing is, she was great vocally, but it was kind of boring for me. Pamy and I felt like she was channeling a little Katharine McPhee, and though it's probably good to channel vibes from a second runner-up but it just didn't work for me.
gimmick for the evening: singing by the grand piano


Arms Cruz - If I Believed In 9
Arms was good vocally. Unfortunately, I just didn't feel like watching her. She didn't make me want to watch her. It was just blah. Again, vocals aren't everything anymore. You need to stand out and make people remember your performance. That was just forgettable too. It's funny how they got Reymond to go up the stage and give her a rose after her performance. Pamy and I figured that since everyone else has a little gimmick this evening, they let Reymond be her gimmick. Cool cause we get to see Reymond, but more intriguing if it were Drae.
gimmick for the evening: rose given by Reymond Sajor


Ken Dingle - Get Here 4
I can't believe I'm saying this: Ken Dingle was awesome tonight. I guess he really got scared of what Mr. C had told him last week that he had gone from bad to worse. Ken's vocals were actually good with his rendition of the song and he wasn't too overacting with his actions. I don't like his outfit, but i guess I could forgive him for that. He sounded really good and he remembered all his lyrics this time around. Ken was so good, he deserves to be in the top half of the performers tonight. It's annoying cause now he really won't get the boot. Not like he was ever going to anyway.
gimmick for the evening: dancing couple behind him


Pow Chavez - For Once In My Life 8
Pow was not at her best this evening. For her standards, it was probably one of her worst and yet it wasn't bad at all. Being the only upbeat song tonight, I guess there wasn't much chance to show off her vocals and this is not good for her. She has the chance of landing in the bottom three, maybe even bottom two with Gian and it's bye bye bye to my two favorites. It's sad because it seems like Pow is getting worse every week, though it's a subtle deterioration. Compared to the others, she's still good, but tonight everyone else shone so much brighter that she kind of paled. I'm really hoping it's not her time yet.
gimmick for the evening: dancing couple behind her


Jan Nieto - Kailangan Kita 7
Paola said that Jan could possibly win Philippine Idol and the sad thing is, it's actually so possible. This guy has just been coasting along, never being the best or the worst and he's always safe. Tonight, though his vocals were good, he was just his usual boring self. In fairness though, he started off really well. His voice was strong and because I love this song, I tried to listen. I couldn't even bring myself to watching him. The ending was too much for me to handle. He was off with some notes and his stage presence was something I didn't want to feel. Oh no Jan, not good enough for me.
gimmick for the evening: violin in the background


Mau Marcelo - I Will Always Love You 1
Someone's ready for Halloween. Before anything else, I have to say that her outfit was just ALL WRONG. From the recycled Arms-headdress to her god-awful cloak, Mau did NOT look good. Thank god her voice redeemed her. Her vocals were tremendously perfect. The song was just perfect for her and she pulled it off without a single bad note. It was amazing because Whitney is not someone you just sing for kicks, and yet Mau looked like she was having a ball and exerting no effort at all. Probably one of the best renditions of a Whitney song and I give Mau props for pulling it off. Of course, my eyes were closed the entire time.
gimmick for the evening: the hideous cloak and timely unveiling of her gown


Miguel Mendoza - Sandra 3
All it took was for Mr. C to tell him to go back to high school. I don't know what showing how gorgeous Miguel's mom did for him, but I certainly enjoyed his performance. Of course, it helped that he played the piano too. Trying to showcase all his talents worked for me. I can barely play the piano and I cannot sing for the life of me, so I was impressed he could do both at the same time. Playing the piano worked for him too because he didn't have to emote much due to the level of difficulty of what he was trying to pull off. His vocals were also good. If Rickey's predictions are right, then Miguel will win this thing. Hopefully not though.
gimmick for the evening: doing a MiG Ayesa by playing the piano


Jeli Mateo - You Don't Know Me 5
I have to say I agree with Mr. C when I say that this was my favorite Jeli performance. First off, I love this song, so I was really hoping she'd do it justice. And well, she did. I give her props for pulling off the song even while sitting. Again, channeling the lounge singer and Katharine McPhee in everyone, Jeli pulled this off. Still, just like what Mr. C said, just because she improved, it doesn't mean she was part of the best. She's actually the middle for me.
gimmick for the evening: guitar players and couch lounging


Gian Magdangal - Superstar 2
What a comeback. Due to last week's not so good reviews from the judges and his supposed bottom three spot according to the forums, Gian shows everyone that he's not just a hot guy -- he's got major talent too. I've heard so many people on AI:5 do this song for auditions and they did it well. When Gian sang his first few notes, I so fainted. I was afraid Gian would just do so-so this week, instead he gave it 110% I was really impressed with how he controlled his actions and made his voice do all the singing. Of course, it never hurt that he looked good at the same time. He was the best dressed male and of course the best looking one. I'm really afraid he's going to get the boot despite his amazing performance. I've prepared myself to see him go, but I'm still hoping against hope that he'll be safe this week. God I really hope so.
gimmick for the evening: cellist doing his thing



My Bottom Three
1. Jan
2. Pow
3. Arms

With my luck, Gian and Pow will go this week. It'll be really sad because I liked them both from the very beginning and it's not like they've been giving god-awful terrible performances. In fact, they've both been giving great performances that had both good vocal quality and stage presence. It really stinks that for some reason, Gian is in the bottom three each and every week.

I hope he pulls of a Scotty-the-body type of Houdini act like from AI:4 wherein Scotty found himself in the bottom three each week and still managed to go scott-free causing the ouster of amazing talent. Of course, in Gian's case, I actually want thim to stay unlike Scott Savol.

I have conditioned my mind that he will not be there next week, but my fingers keep texting for him to stay. Gian deserves to be safe this week. I hope the two-hour voting worked in his favor. I can only hope.