Its a late recap.

And I really didnt want to do this. Why? Because Reymond is gone. Still, I've decided to honor Reymond's last performance by making a recap. I warn that this will be anything but objective. So brace yourselves.

First off, I hated it that FM was gone. Yes, he can get a little weird with his comments sometimes, but if there were a judge to kick out for 6 freaking weeks, it would be Pilita. Seriously, this girl makes NO SENSE at all. one of these days, I will write down what she says and share it with y'all because she makes no sense at all.

Still, at least FM chose Hadji (sp?) Alejandro because at least he made sense. Seriously, Mamita Pilita needs to get voted off. Anyone with me?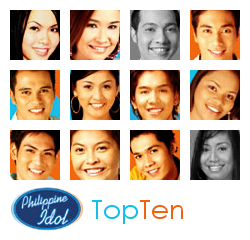 Reymond Sajor - Be My Lady 1
I'm never really impressed with the first performers. It's a tough spot to be in. Yet, Reymond blew me away. His voice was just perfect and smooth and perfect and controlled and perfect and amazing. He was un-BEREFT of feeling. He totally felt the song. The newly resurrected blogger, Pamy and I were on the floor because Reymond floored us. We are definitely Reymond's whores.


Jeli Mateo - Isang Mundo, Isang Awit 8
Oh no. I'm not a Jeli fan and being after Reymond was not good for her. First off, I dont like this song. I remember having to sing it under Ms Alvarez (I think) in grade school, for some UN day thing and I did not enjoy it. Unfortunately, Jeli did not change my mind about the song. I have to say she was one of the better dressed girls last night (a very Mamita comment), but her performance just didnt cut it for me. I'm surprisingly well-behaved with my comments -- It must be the depression.


Gian Magdangal - Give me A Chance 3
I have to be honest and say that Gian pales to Reymond (gasp, I cant believe I wrote this) when it comes to vocal prowess. However, Gian makes up for it with charms and performance. I love how this song is so apt. Asking viewers/voters to give him another chance. Gian of course charmed me again. This guy is such a great performer I cant keep my eyes off him (looking good doesnt hurt) when he performs. I was shocked to find out from Pamy that Aiza Marquez is his girlfriend? Oh no. So not good.


Pow Chavez - Till I Met You 5
Not Pow's best performance and yet still among the best. I happen to like this song and Pow did it justice. Though not vocally amazing for Pow, she still held her ground considering it wasn't as stellar as her other performances. It was cool to see that she was of course in her usual pant suit thing while all the other girls were all traditionally "dolled up." I'm glad Mamita didnt comment on how she wasnt in a dress. Pow did great.


Miguel Mendoza - Swerte Swerte Lang 6
Miguel surprised me in a great way. I was of course, expecting him to flop, and yet he did this really well. Of course, he was still very corpse-like in his movements and I find it excruciating to watch him "feel the song" on television, he did good vocally. I don't know this song too well, but he made me want to listen to him. Keyword being listen because I cant stand to watch him. He needs to get more comfortable. He's very John Stewart (from AI4) because he's young, sounds good but is so weird to watch.


Mau Marcelo - Ako Ang Nagwagi 7
I dont like this song. I dont like how Mau looked. I dont like the way she sang it. Still, her vocals were good. Mau can belt it like there's no tomorrow but do I really want yet another belter? Not a good song choice in my opinion (and according to Mr C too). This song just shows that you've got lungs made of steel, but is there any musicality in your voice? I wouldnt know, you keep bellowing that you've won. So assuming too, to sing "ako ang nagwagi" when you're far from the Top 2. Oh well.


Jan Nieto - Umagang Kay Ganda 4
Yet another revelation for the evening. Jan's voice is so good. Sure, he's got his many Unilever minions texting away for him, so he's so obviously going to be safe, but Jan deserved to be safe this week, because he totally redeemed himself from my bottom 3 spot last week. It was cool how he was able to sing for both male and female voices and really pulled it off. Jan's voice was smooth and whole and he proved why he was there to begin with. Still a little awkward to watch, he's miles better than Mr. Roboto (aka Miguel)


Apple Chiu - Sometimes You Just Know 2
I guess nothing can beat last week's performance of Natural Woman, this one came pretty close. I dont know this song eitehr (as my repertoire of MetroPop songs are close to nil), but she really made me like the song. She looked really good too (opting for a less popular short gown). Apple's voice was once again flawless. She can really sing and make it seem like she's not even trying. She's comfortable on stage and it shows. I'm not a fan of her make-up, sometimes it makes her look a little drag (like tonight), but I'm no make-up expert anyway. Still, Apple did really good.


Arms Cruz - Anak 10
Wow. This isnt a song I'd dare botch up and well, I guess Arms did just that. I wasnt a fan of her clothes or the way she sang it (i was seriously afraid of her) and her dance moves. I really salute Drae for looking so happy for the camers whenever she'd sing because I couldnt fake enjoying her performance. I had my ears covered with the beanbags and I'm not even joking. Freddie Aguilar would have probably jumped out the window if he heard that. She just scared me.


Ken Dingle - Magsimula Ka 9
And the Dinglehopper gets the pimp spot. So not deserving. His voice was just blah. The song didnt help him either. It was just blah. He didnt change my mind about anything. He just made me hate him more. This guy just keeps greeting people and crying and its not working on me. vocally he was blah. His performance was blah. Over all it was just blah. I dont like Ken.



My Bottom Three
1. Jeli
2. Ken
3. Arms

It's just sad how my bottom three didnt even touch the bottom three. These people did not show Idol quality performances and yet they were safe. My top 3 on the other hand were so amazing and two of them landed in the bottom 3.

Reymond deserves to go farther in the competition and instead he is out. The great performers are getting kicked out one after the other and we're going to get left with a really horrible finale. Reymond's voting off just shows that we are so not ready for a different kind of Idol, instead we're still going to get stuck with the usual birit queen.

Reymond deserved more than this. It's such a shame.