Definitely a much hotter night than last week, Soul Night proved to be way more entertaining than OPM night. In fact, looking at the recap, everyone did fairly well -- vocally. It was the performances that set them apart.

And since she got so much camera time, I just have to mention how kawawa Dominique Cojuangco looked. Seriously, you're the daughter of the ABC 5 president, you're rich, and you're pretty naman, how sad can you get? You've got front row seats!!! Of course, she'd probably opt to be out partying or whatever (I Dont know her and I'm not one to judge), but I would at least pretend to be ecstatic to be there.

We didnt agree with the judges tonight. In fact, we liked who they didnt and hated who they liked. Still, FM was hot. I want Mr. C to be my lolo and Mamita Pilita Abdul is still freaking annoying. I want her gone.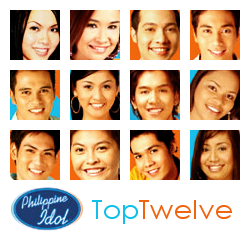 Mau Marcelo - Crazy In Love 12
Homaygawd. what the freak was that? Seriously. I liked Mau. This was just bad. I thought she looked horrible too. Her make-up was terrible. But really, she sounded awful. Wrong song. If she wanted to do a Paris Bennet-ish type, then she should have gone all out by doing Work It Out. It was too low, the song didnt do her voice justice. Just horrific.


Ken Dingle - Whats Going On 11
We expected a lot from Ken. His kulot would have worked well this week, but apparently, he held back. I remember the "all-star tribute" of this song back in 2001 and I liked that one (cause *N Sync was in it), so I was expecting him to do really well. After all, he keeps claiming that he's most comfortable in R&B. His performance wasnt good. I didnt like his vocals too much and I was bored to bits. And I was so annoyed that he had to have the super long spiel about geting his voice back (yeah like ten years ago) and how he had to mention every single city in the atlas just to get votes. So annoying. Hopefully its a bye bye bye for the Dinglehopper


Apple Chiu - You Make Me Feel Like a Natural Woman 3
What a comeback! Last week, I really just wanted to hurl when she sang, but this week, it was amazing. She was the first Idol-worthy performance. Great song choice (and a risky one, considering Kelly Clarkson sang this too), but Apple pulled it off. Her vocals were perfect and she emoted just enough. I wasn't annoyed. In fact, I was impressed. Go Apple.


Stef Lazaro - Proud Mary 9
I'm no Tina Turner fan, but I can spot a poser when I see one. Now I'm all for emulating your idol, but dont copy her to a T. She had the dance steps down, the body movement and all that growling (though a little too exaggerated) that I really didnt see what was Stef there. I'm not a Stef fan to begin with, so she really had to do a lot to impress me and she didnt. Funny thing is, this morning, with our newspaper came a FLYER saying to vote for STEF. Seriously, I almost died when I saw it on the cabinet. Aggressive campaign eh? Her vocals were good, but I felt like she was shouting the entire time. I love how Mr C just never gives her a break. Go Mr C!


Jan Nieto - Could It Be I'm Falling In Love 10
I like this song. It reminds me of the good old cheesey Johnson and Johnson teen advertisement types. Jan didnt do too well. I was bored. His vocals were okay, they just didnt do anything for me. And that part where he took that girl from the audience and danced with her was just so awkward. It wasn't like he dances well, it was just blah.


Reymond Sajor - I'd Rather 5
This guy is getting cuter with each episode. I didnt even notice him before, but today he was looking all geeky-cute. I was loving the preppy look. But lets stop being Pilita here. I liked loved his voice. To think I absolutely hate this song, Reymond so made me like it. His voice was so smooth and I'm sure when we listen to this again, its so going to be ready for recording. Reymond's a whore!!!


Jeli Mateo - Always Be My Baby 6
I dont agree with the judges at all. They said she looked good. Hello? Are they blind? What the hell was she wearing? It was like she had two bandages wrapped around her body. Not flattering at all. They also said she wasn't any good. I so disagree. I'm no Jeli fan, but I thought she did pretty good. Mariah isnt someone you just sing to, and she did it justice without being such a copycat of the original *cough*Stef*cough*


Gian Magdangal - I Feel Good 2
WARNING: I am probably biased beyond belief because after his performance, I have decided that I want to have Gian's babies. Why? Because children deserve to have hip-shaking talents, gorgeous face value, vocal powers, and magnificent stage presence. Whew. I have to admit that his vocals werent as perfect as they could have been, but he totally made up for it in performance. You want an Idol-worthy show, you better keep Gian in the running. I was sweating and shrieking and just salivating over his hips. This guy can move. Also if I were in Dominique Cojuangco's seat, I would have totally gotten up and jumped Gian. She could have, she was so near.


Miguel Mendoza - Lets Stay Together 7
I wasnt expecting anything from Miguel. Actually, I expected him to do bad. That's why I was pleasantly surprised that he didng totally bomb it. He was a little boring and I cant blame him, how many people, other than Al Green, can really pull this off? So I commend him on his brave attempt, but he's definitely not getting my vote tonight. Still, far from the worst. In fact, he's at the top of my personal bottom 6. Not bad at all.


Pow Chavez - U Got It Bad 1
This girl kicks major ass. I thought she'd do well with Usher's hit. But Pow had to give it her own little twist. Say hello to the disco-fied version of U Got it Bad and she totally pulled it off. Her vocals were a little strained at times, but over-all, she had a wonderful performance that made me want to watch her and not just listen to her with my eyes closed. Pow needs to stay in the game, because she does something new and exciting each week that I so look forward to.


Arms Cruz - Respect 8
In fairness to her, compared to last week, she did a million times better. However, it still doesnt do much for me. I didnt like the fact that she kept yelling the entire time. It was like she was yelling at me and that just wasn't pleasant. Still, I have to give her props for improving. She is exerting effort. I just wanted to yell at her when she started crying again. Hello? the judges like you already, stop with the act.


Drae Ybanez - You're Still a Young Man 4
Dangerous song choice, because we think its too high brow. I mean how many people really know Tower of Power? I know I wouldnt if it werent for my dad and Pamy. Still, Drae did it justice. I love how FM liked his performance, at least he got one judge on his side. Still, I hope Drae stays in because he's got a nice voice. Despite the non-popular song choice, his vocals were impecable. Definitely hanging on.



My Bottom Three
1. Jan
2. Ken
3. Mau

I'm actually going to vote because I need my Gian to stay. Really. Before the end of the show, Ryan (always a cutie) talked about having blog voting in the future? Seriously how is this going to work? Because I am going to use every blog I can get my hands on to make this work. Gian-Pow finale and i'm set.