Ryan Agoncillo is looking hotter and hotter. Seriously. When I first heard that he would be the host of Philippine Idol, I wasnt sold. But after watching him these past few weeks, he's actually really good. I'm not annoyed. I'm actually pretty impressed.

I haven't been able to follow the show episode per episode (unlike my obsessive love for American Idol, but it didnt take me forever to distinguish who were in the Top 12. I dont like all of them (*cough*Stef*cough*Ken*cough*), but there are definitely some good ones for me.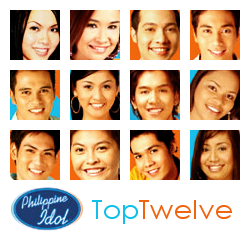 Arms Cruz - Araw Araw, Gabi Gabi 10
First off, what the hell was the song choice? FM (Francis Magalona) was right. That was just so old. I mean I have nothing against old songs, but this was just old and BORING. And its not like she did it any justice either. it was just so blah. I didnt even want to watch it anymore. So not my favorite.


Jeli Mateo - Iisa Pa lamang 6
This girl is pretty. But I'm going to say that I'm not exactly rooting for her. She just doesnt click with me. Nevertheless, her vocals were good. And she was lively and she performed pretty well, but she just doesnt do it for me. I know she's going to make it far, because she's got talent, but I dont want her to win, for sure.


Reymond Sajor - Hindi Magbabago 1
Not the most memorable performance of the night, but his vocals were great. I didnt even know this song too well and he actually made me pay attention. I have to admit, it took me a little effort to remember his performance, but when the recap played, it made me realize that this guy is good, and he's not being pimped. That's not good.


Apple Chiu - Ngayon 12
Ew. This was just so forgettable. I didnt like it. I didnt pay attention much. I just dont care. The song was whatever. I could go on forever on how forgettable and annoying she is. Even during the recap, I didnt pay attention much. This is even more blah than blah.


Stef Lazaro - Pangako Sa 'Yo 11
I just dont like Stef. I didnt want her in the top 24. I didnt want her in the top 12. I dont want her to stay one more week. Her performance didnt deserve it either. It wasnt horrible. It just wasnt good enough. According to Pietro she had a lot of pitch problems. And not surprisingly, the judges said the same thing. I want her gone. She's already got a hot husband and cute kid. She doesnt need this. I am so mean. I am going to hell. With my luck though, she'll make it to the top 2 -- with Ken.


Ken Dingle - 'Di Na Natuto 5
I am NOT a Dingle-hopper (thank you Pamy for that wonderful fan name). In fact, I was so devastated when Ken got into the Top 12 over Onyx or Joseph. That's why I made sure I hated him. But this performance was great. He didnt do the usual version of the song which was good. He kind of Mario-Vasquez-ized it and he pulled it off. Unfortunately. But I guess I should be happy that he's doing good. Grrr...


Jan Nieto - Tuwing Umuulan at Kapiling Ka 9
I happened to like this song. I just dont think he did it justice. It wasn't a bad performance, I just didnt like it. Not such a smart choice either to pick a song Mr. C (Ryan Cayabyab) composed, but even Mr. C decided it was good enough. I guess he didnt want to insult his own song. Still, I've heard better renditions of this song, and he doesnt belong in the top 3 tributes to this song.


Mau Marcelo - Minsan Lang Kita Iibigin 3
Wow. Mau may not be the hottest kid in the top 12, but she's got the hottest voice. She definitely woke me up from my sleeping streak. Her voice was great, she had a good stage presence and she just made me pay attention. I really hope she's got enough fans to keep her in.


Gian Magdangal - Himala 4
I have to say, I like Gian. I think he's cute and he can carry a tune. Did I mention that he was cute? I have to be honest because I dont think I'd want the first Philippine Idol to look disgusting. And Gian is so NOT disgusting. SUre, its not the best vocals, but I definitely wasn't bored. I love how Mr. C is pimping him by saying that he thinks he will be the first Philippine Idol.


Drae Ybanez - Hang On 7
First English song of the night. I think he started off a little weak, but it was probably just nerves. He's got really good vocals. I have to say I was a little bored. I mean, there are so many great Gary V songs, why'd he have to choose this one? I really do hope he doesnt get kicked out, because this guy could actually be in danger with that performance. Hang on, Drae.


Pow Chavez - Nakapagtataka 2
So that's the name of that song. I think I heard it in Jollibee this morning and realized I liked that song. thanks to Pow, I know the title. And, I LOVED IT. She didnt oversing it at all, and she didnt overreact with her actions and all. It's funny cause she looked better than the guys. Screw you, Mamita (Pilita Corales) for trying to get her into a dress (not so subtly). Pow is the shit!


Miguel Mendoza - Next In Line 8
In fairness to him, I didnt like this song. Then he sang it and I actually didnt cringe. It sounded a little preachy, but at least it was a nice-toned preaching. The last note was a little off, but he kind of redeemed himself with the ending. He didnt have an over-the-top performance which was good. His voice could stand on its own anyway.



My Bottom Three
1. Arms
2. Stef
3. Apple

I'm hoping that Stef gets the boot, but obviously knowing my luck, it'll probably be someone who's actually good like Pow, Mau or Gian. Oh no. I cannot wait for tomorrow night. Time to vote. Oh wait, you actually pay for votes, so I'll make sure I vote wisely. Har.