And to think I was seriously hoping for an *N Sync reunion.

That's why my heart stopped when I skimmed through my daily dose of news from JustJared.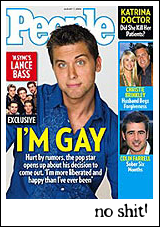 A



Wow. Well, I guess this wasn't such a far-fetched idea. Its just weird to think about especially since I can recall days when I would actually SCREAM when the This I promise You music video would come out.

Niq will be devastated. This makes me wonder. Could JC be gay too? I mean, Lance did date girls before, so nothings impossible. It would be amazing if Justin came out, but that's just not happening.