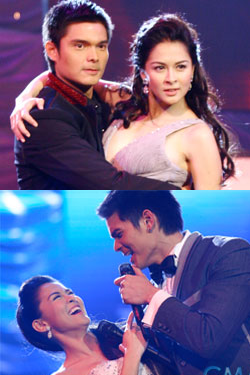 That's right. Give me tickets to ANYTHING, and I'll watch it. It doesn't hurt when I actually like what's playing or what's showing.
That's why when Ate Let said she had an extra ticket for
Dingdong Dantes
and
Marian Rivera
's birthday special, I was so there.
I was pretty much hooked on
Marimar
during its run. And though I'm not
Dyesebel
's biggest fan, I do love seeing Marian and Dingdong (especially Dingdong -- since his T.G.I.S. days) together.
So along with my yaya's nieces and
Pamy
(who arrived exactly on time), we sat through almost two hours of GMA-type variety shows.
The show was free, so I wasn't really expecting much and well... I guess I don't really have a right to complain. It wasn't that it was bad. I just felt it could have been a bit better.
(
Collapse
)