There's something about cotillion that gets me going. Is it the so-called virginal white gowns they all wear? Or is the fact that all the guys look damn hot in their white tie get ups? Whatever it is, I love the decadence and the oppulence of cotillions, because I know I'm never going to be able to experience being introduced to society in one of these.
Nevertheless, this episode didn't disappoint. Sure, I wished for more drama, but I'm not going to complain. Dear Chuck Bass is back and therefore there is enough drama to go around. And welcome special guest, Grandma Cece Rhodes (Serena's grandma) who I can totally live without (she is of course, the equivalent of either Caleb Nichols, or Sandy's dying mom on the OC). Sorry, I couldn't help it.
(
Collapse
)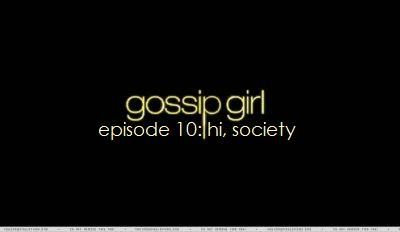 All in all a pretty "well balanced" episode, showing a bit of everyone, and trying to not leave anyone out. Yes, I wished there was more catfight and drama, but hey they're the experts, so they know what they're doing. Next week: we see Blair's dad come home and the reappearance of Vanessa. Who will I hate more? Vanessa or Jenny or Alison? Let the comeptition begin!