Foreign artists rarely come over to Manila for concerts. I think they get threatened by the supposed "terrorist activities" or the kidnappings, blah blah blah. That's why when anyone and I mean anyone comes over, I get really excited (attn: spicegirls!!!).
But last month, when I heard that
Christina Aguilera
was coming over for her
Back to Basics
tour, I just flipped! I knew I HAD TO GO. But see that had to go thing, is tricky, as tickets cost P7000 ($150 - a permanent account) for the VIP, I think and as "low as" P1500 ($32) for General Admission, let's just say money wasn't that easy to find.
(
Collapse
)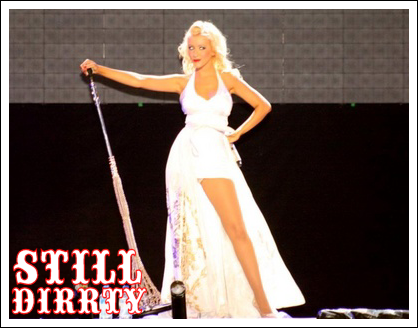 Photo taken by Jasper Lucena
I obviously had a blast. Understatement of the year actually. I hope she'd come back next time though. I think the crowd was a good indicator of how many fans she has over here. I saw so many people I knew. My sister spotted
thequene
outside and
pupols_pet
practically jumped on me in Bonifacio High Street. Apparently, Donna and Rissa were there too and so was Kate and Bea. And I don't know why I didn't text the HUGEST Christina fan (in my world),
sassy_semplang
if she would be there, because she would have been so much fun to watch with -- she was there, just in better seats.
But hey, for tickets I got for free, I'm sooooo not complaining. I can't wait 'til Christina comes out with a new album and tours for it. Hopefully, she'll come back here. But since she's pregnant, it could be a long time from now.