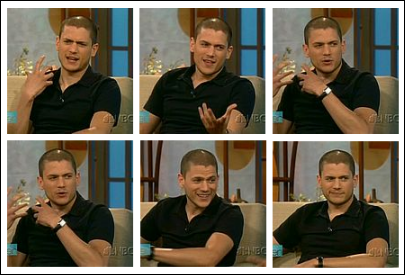 There's really something about Wentworth that just makes me drool.
Thanks to
Kimi
for giving me the heads up on this one. Apparently, dear Wentworth is going to be guesting on the
Ellen De Generes
show. Knowing how late we get things over here, I scooted over to
Just Jared
because if anything Wentworth comes up, he's sure to have it.
Lucky for me, it led straight to the
YouTube
version of the interview. And though a really quick interview, Ellen packs the punch. I love Ellen, probably just as much as Kim does and the fact that she's already interviewed
Jake
and now Wentworth just make me love her all the more. After watching the interview, it just reaffirmed my non-pet-friendly stance (as I too, am allergic to fur/hair) and I'll probably brush up on my
Jane Austen
literature. You know, just in case.
And, you know you want to, so just
CLICK HERE
for a little more sizzle to the already scorching summer.
(
Collapse
)
I think I just added a few degrees to the already blistering 35º C. And to think a year ago,
today
I was enjoying the lovely
New York
weather. Widthrawal anyone?
Happy 24th Birthday
aprilbegins!!!
I hope you have the most fantabulous day ever!
You deserve to have some fun
take care of yourself! ♥