There's something about
Mark Ruffalo
that really makes me want to watch a movie. I didn't even realize it, but as
Pamy
and took a look at his film credits, we've certainly watched A LOT of his films -- his "chick flicks" that is.
Nevertheless, I have to say that I really enjoyed watching
Rumor Has It
. I don't care that it got a
C+
rating from Yahoo!Movies, I thought it ranked way higher than that. I am obviously very easy to please.
(
Collapse
)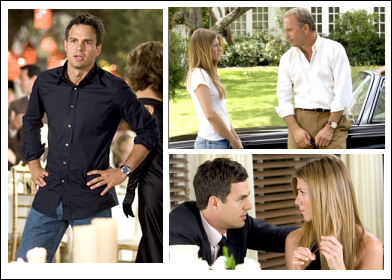 Speaking of other movies, I was in
Shangri-La
a few days ago and saw the trailer for
Just My Luck
starring none other than
Lindsay Lohan
(who is back to her
red hair
. Of course, the fact that
Chris Pine
(hottie from Princess diaries 2) is in it, made the movie more enticing to me.
However, after reading a quick
synopsis
of the movie, suddenly I'm not so sure.
And I think that someone might actually rival
Apple Martin
's cuteness baby-wise. Apparently,
Ben Affleck
and
Jennifer Garner
have spawned an adorable baby.
Violet Affleck
is pretty damn cute. She surely got the genes right. Then again, with new baby brother,
Moses Martin
in town, The Martins could still collectively hold the rights to cutest babies in Hollywood -- other than the rights to most unique names.
I really hope that
Jake
's big sister
Maggie
and
Peter Sarsgaard
's genes mix well, because I'm hoping for a
cute nephew/niece
[delusional moment]. I'm just glad that it's Maggie who's pregnant and not some random girl **cough** Kirsten **cough** with Jake's baby. That would just break my heart.
Speaking of babies, I'm actually more excited for the
TomKat
's little one to pop out.
Tom
-- who I thought looked really amazing in his latest GQ appearance, cleared up a bunch of "misconceptions" about his Scientology-thing. I'm more excited about that [TomKat] than the
Brangelina
baby. Somehow, the only Jolie-Pitt I really appreciate is
Maddox
.
And finally, apparently even
Ewan McGregor
(the love of Pamy's life) has also jumped on the
adoption bandwagon
. He and gorgeous wife,
Eve Mavrakis
are now the parents to an
adopted
4 year old girl from
Mongolia
. I really think it's great that these celebrities are taking on children from unwanted households. I mean, look at
Nicole Richie
. Okay, maybe she's not the best example, but Maddox seems to have a great life right now.
Now I'm wondering, how I get on those lists of children that these celebrities pick from for adoption. If anyone knows, sign me up.