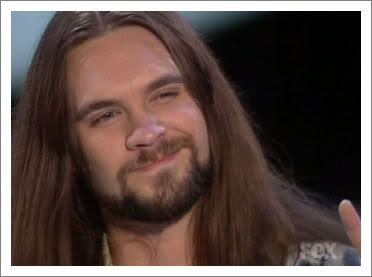 It really stinks that
Bo
didn't win. I really thought he would considering the theory we came up with that in order to be
politically correct
, they'd have to get a
Caucasian-male
to win this year. See, they've already had a
Caucasian-female: Kelly Clarkson
, an
African-American-male: Reuben Studdard
, an
African-American-female: Fantasia Barino
...
Therefore this year, they must have had a Caucasian male in the form of
Bo Bice
. But I guess they aren't really going to live up to that. Which is really sad, because though
Carrie
is a really talented person, I just thought it would have been so cliche that she won. Everyone knew from the start. Why did people have to vote?
Oh well, I hope that Bo pulls a
Clay Aiken
and becomes way more popular than Carrie. I'm just mean.
I got home today at 9pm thinking that the winner would have already been announced.
Tita Ruby
and I went around almost all the stores you could think of in
Michigan
. We searched high and low, and when I got home, I was just expecting
Pamy
to tell me that Carrie had already won. But no.
They had a two hour special that I thought dragged on too much. Finally, in the last five minutes came on and there's
Ryan
"revealing" the winner (whom we all knew already).
Tough luck. There's next year, I hope that
Mario
comes back though. Then he'll surely win the contest.