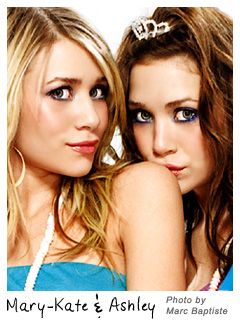 The Wonder Twins
I am not exactly an Olsen Twins fan as I do not really look out for their movies or wait with bated breath for their spring collection to be released. On the other hand, I don't hate them either. In fact, I have to say I congratulate them for being so enterprising and entertaining.
ENTERPRISING:
At such a young age, they're already millionaires. Who cares if they have their faces plastered on bed sheets, key chains, cups, underwear, and who knows what else. At least they're sure they can survive for the rest of their lives considering they don't do anything too crazy with their money. Heck! They can pay for their own tuition fees as they enroll at NYU this fall. Lucky girls!
ENTERTAINING:
I'm no fan, but I have to admit that everytime one of their movies shows on HBO, I actually stay put and watch it. I especially like
Passport to Paris
. Cute guys, cute girls, cute movie. It's not something you have to ponder on, it's just something that you can do to pass time. They don't offend me and surely are a better way to spend your afternoon.
Over all, I think the reason they're in this list is because they're the
IN
thing right now. They've got a movie coming out and with the success of their business, they were the top choice, for sure.
HOT:



**out of a possible five