I cheat. For those who don't know yet, every week, I read spoilers and mail them to Pamy every single week. Why? Just because. Anyway, this week, as I logged on, my heart stopped. Apparently, the damn judges didn't like Elliott. OUR Elliott. Why? Because I guess they're prepping the stage for a Taylor-Katharine finale.

Yes, after teasing us by bringing Elliott this far, it's all going to nothing. Seriously. I just (big request I know) wanted him to make it to top 2. But according to everyone on
americanidol, Elliott's going to go. Oh no. I want to remain positive, I really do. It's just reallly hard. I believe in Elliott's talent. I just hope American agrees with me.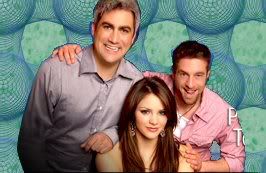 Round One: Clive Davis Choice

Elliott Yamin - "Open Arms"
I think Clive wants him to go. Not the best song choice. And yet, Elliott does great with it. I dont think anyone could pull that off, because it's not exactly an exciting song. Still, Elliott made me listen to him. I really think this guy has got what it takes. Yeah, he didn't blow me away like last week, but I think he did a pretty good job. Thank god for Paula's comments.


Katharine McPhee - "I Believe I Can Fly"
Clive is supposed to be some genius right? I hate this song! Thank goodness Katharine somehow salvaged it. Still, the song choice is so crucial that it totally ruined it for me. Clive could have given her At Last or something, but he gives her this?!? I think he's out to sabotage the show. I know he's a mogul, but really now? It just wasn't good for me. I hate it how they try to tell you you're beautiful, but bash you afterwards. Gar. I was a little miffed by the "I didn't pick it" line. And of course, Simon had to save her. Rawr.


Taylor Hicks - "Dancing In the Dark"
Hmmm... now I see what they're doing. Good song choice for Taylor. Really good in fact. I think he did a good job, considering he got a great song. Obviously, he's already being groomed for winning this thing. He sounded great though. So I can't really bitch much. It's all in the song choice and he did really well with this song. At least I already know why he's winning. Gar. And the Paula-dancing-pimp-spot? That totally sealed the deal. Soul Patrol mention count: 2

Round Two: Judge's Choice

Elliott Yamin - "What You Wont Do For Love"
Damn Elliott! I liked this one. I love his voice. Whenever he sings, I just swoon. But was it just me, or was the song too damn short? I mean, it only lasted around 1:20 minutes compared to Kat's 2:40+ minutes song. Still, with that little time, Elliott did amazing. I love how he does his runs and tries to show how great his vocals really are. I swear, this was just really great for me. I thought Paula did a good job of choosing. Randy should go to hell: sharp?!? What the shit? Thank god for Paula. Again. Go Elliott!


Katharine McPhee - "Somewhere Over the Rainbow"
I've connected this song way too much with Pamy. I have to give Katharine props though. She really brought it with this one. Still, I can't get over the fact that this song lasted way longer than everyone elses. This song proves that she can sing, but I'm just afraid because that one song could totally topple every single great thing Elliott has done. Which totally sucks. Still, pretty good. Then again, Simon chose the song, so I'm not surprised. Then the judges laid out the law and told her she was the best, so I'm really not surprised if she saunters to the top 2 with those comments. Just a little peeve. What's up with the sitting down? I know she's got pipes, but stand up girl! You look gorgeous, flaunt it.


Taylor Hicks - "You Are So Beautiful To Me"
I was never a fan of this song. I thought Taylor did an okay rendition of it. I didnt like his falsetto before the bridge too much, I thought it was a bit much, but it wasn't bad. Probably the worst of Taylor's perforamnces tonight. I'm not worried though, I know his Soul Patrol are working overtime for him. It was a little boring, maybe indulgent. But who cares? He's not getting kicked out. Soul Patrol mention count: 3-4

Round Three: Idol's Choice

Elliott Yamin - "I Believe To My Soul"
I didnt know what the hell this song was, once again. But obviously, Elliott knows what he can sing. I thought he did fantastic with this song. Even at first listen, you can tell that his vocals are perfect. He did his runs, and he did without a hitch. I love the part where he kind of talks and sings in the bridge part. I dont know if Elliott's going to stay next week, but I loved his performance. He looked like he was enjoying himself and he did great. Why did he have to say that his songs wouldn't get him through? He could have just said that he would make his mom proud. Gar.


Katharine McPhee - "Ive Got Nothing But The Blues"
Okay, it wasn't the best, but not the worst either. I loved the instruments that accompanied her. They made the song even more interesting. Katharine's vocals were pretty good and she had the entire attitude and personality. She looked real good too. I loved what she was wearing. Obviously, I'd rather see Elliott, but it looks like Katharine isn't going to go down with a fight. I wonder how it would have been if Chris were still in the game. I know he's harder to topple, but it would have been interesting have an all-male. Anyway, going back to this, Katharine did fine in this one too.


Taylor Hicks - "Try A Little Tenderness"
Wow. Taylor is serious. Serious about winning. I love this song and he did it proud. He knows his voice and his performance skills and he knows just how to jazz things up. I love it that he started out slow then made it so disco. I loved it. Yes, they'r grooming him to win, so I'm not worried at all (and honestly, I'm a little bored knowing it). Still, Taylor did an amazing job! He just knows how to give enough oomph and wow factor. Sure, he got a little crazy, but it's always Taylor-esque. I liked this performance a lot. That was a great way to end the show! Soul Patrol mention count: I've seriously lost count

My Bottom Two
1. Katharine (1st song)
2. Taylor (2nd song)

This might be Elliott's last week and that just pisses me off. He's been so damn consistent. He's given really great performances week after week. Sure, maybe others weren't wowed by him this week, but I guess I'm such a fan already, that it doesn't really matter. Elliott. Please stay.

And what's up with Clive Davis? Seriously. I just want to beat the crap out of him. (obviously, I am on a violent rage) He screwed everyone over. I'm so disappointed in him. Song choice? Awful. Advice? Not really. Garrrrr.

Plus, I am SO PISSED at Simon. I know I love him sometimes, but how dare he tell Elliott he's not going to make it to the final 2? That's just a spirit downer. It's like kicking a guy when he's already down. I've never been so annoyed with him until now. I just want to grab him and strangle him with his too tiny t-shirts. Garrr.



Seriously, why now? He's so damn near to the finals. I don't even know if I can go on next week, if he's not there. I so know how Chris fans feel. I feel awful and it's not even the eliminations yet. Yaminions no matter what the opinion. Though cheesey, so freaking true. Go Elliott!!!