This day could not have been any better.


CWTS wasn't so bad. It took Anna and I less than an hour to survey 4 people for the last of that Tagalog Romance novel readership thing.

I saw Ana today and of course I knew just how to finish her sentences. Maybe the hypnotherapy really works. We must get our hands on the CD too!

I found out that Chris got eliminated. Seriously. He took it so well, I almost wanted to give him a hug. Of course, I'm relieved that Elliott (our love ♥) didn't get the boot. But somehow, I felt bad for Chris.

Elliott was so damn fine tonight!!! The producers finally give him a solo and he totally pulls it off. Squee!!! So dont you mess around with him. I really hope he makes it to the final two. ♥

I ate super yummy roti with chicken curry for lunch and had pistachio icecream for dessert at Anna's house. I swear, just two days in that house and I end up gaining back what I had lost! Seriously, and to think we spend most of our day wasting away on that Flash presentation we're just soooo great at.

We finished the presentation! With the after effect of having LCD Soundsystem's Disco Infiltrator and The White Stripes Seven Nation Army stuck in my head.



i'm rooting for both, but I have this feeling Jae-Ha's going to win
I'm already on episode 13 of the fabulous (yet un-subtitled) Spring Waltz and I'm loving every minute of it that does not include Jae-Ha's parents or Eun-Young's friends. I'd very much love it if it was just Daniel Henney (and his oh-so-cheesey-but-if-he-told-them-to-me-i'd-die lines) 24/7, but I can deal with the other three lead characters.

Speaking of the lead characters... Ever since the first episode, I thought that Lee So-Yeon looked an awful lot like my sister, Pamy. Almost the same haircut, wears glasses, the skin, the outfits, and even the dangling earrings. Of course, Pamy being the number one supporter of self-love, combined with the digital camera, agreed to pose for some pictures. Gotta love the vanity.

It's amazing because So-Yeon looked nothing like my sister when she starred in Spring Day. One thing's for sure, this girl is lucky. She's starred alongside both Ji Jin Hee AND Daniel Henney! Some girls just have it all.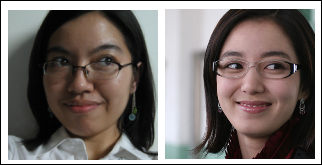 I'm probably the only one that sees it.



And since everyone says that Paola looks like Pamy, I forced her to pose likewise. Paola doesn't wear glasses and is coerced into my polo shirt. Gotta love the cooperation.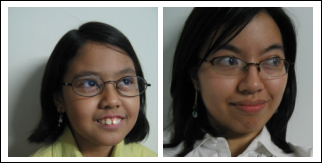 Just because I can



Everyone HAS TO watch this!!! There are soo many cute moments when I just want to squee, but I can't because everyone else is asleep. If I had to enumerate them, it would take me hours. At first I really wanted it to be Philip + Eun Young, but I realized that Jae-Ha + Eun Young = &hearts!!! Suh Do-Young is so adorable. And Han Hyo-Joo is the luckiest girl in KDrama history!!! Both lead guys wanting to kiss her? Seriously, I'd kiss them back. And once again, I have to remind myself that she is only MY age (and is even YOUNGER by 11 days). Life is just so unfair. Gack! I'm going crazy.



Happy Birthday
admiration__!!!
I can't believe you're already 18!!!
Hope you had a fabulous birthday
See you on Saturday!!!!

and

Belated Happy Birthday
koi_tattoo!!!
I hope you had a really fun day!
I can't wait for your siomai (yum!)
Keep on Smiling ♥