I'm not the biggest Elvis fan, but a lot of his songs have been remade over and over by really good artists. I have to admit, that the Idols did a pretty good job this week. It's getting very very difficult to choose a bottom three (other than Elliott of course), because everyone's just working so damn hard this week.

Just two more weeks till the finale. Elliott better be in that final two.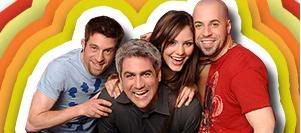 Round One
Taylor Hicks - "Jailhouse Rock"
This week was made for Taylor. And he really made sure he'd do good with it. I thought it was a good choice of song. Because it's not exactly a song that needed to show off his vocals, yet it was fun to do. Taylor had a good performance. I wasn't blown away though, but it was pretty good.


Chris Daughtry - "Suspicious Minds"
I happen to love this song because of JD Fortune's version on Rockstar: INXS. Thus, I was expecting a lot from Chris in this song. I don't think he did it justice, but I wasn't disgusted either. I'm glad he didn't yell his lungs out, but I wasn't impressed. I thought the ending was kind of bland and it just didn't work for me.


Elliott Yamin - "If I Can Dream"
Oh My Elliott. You are the most underrated Idol ever -- and probably the one with the best vocals too. Sure, he started the song a little nervous, but after a few seconds, he totally brought it. I listened to Elvis version last night and I was a little scared for his song choice. But of course, Elliott just had to prove me wrong. He did the best with his song choice that showed off his vocals and his performance skills. Of course, he did all this while looking so damn hot.


Katharine McPhee - "Hound Dog/All Shook Up"
Well, it wasn't bad as I've read in other places, but it just didn't do much for me. For me, I thought Katharine would have done better with Always on My Mind because I feel like she needs to show off her vocal prowess (something she needs to do to stay in the game). Showing her "fun" side just doesn't do it for me. I know she's got some serious pipes in her, so I think she should remind every one that she's got them. Because honestly, I can't really remember anymore and that makes me sad.

Round Two

Taylor Hicks - "In The Ghetto"
I had no idea what this song was, but Taylor managed to make me like it. Seriously. He made a great decision by pulling back on the wild antics on this one because his voice did all the acting for him. Laid back and cool, this just proves why Taylor has gone this far. I'm glad that he's really showing people that he deserves to be in the top 4, because being the ONLY guy who's never been in the bottom 3 (unless he was during that week that they put him and Elliott in the middle 2), this guy has to show his Soul Patrol that he's worth it.


Chris Daughtry - "A Little Less Conversation"
For some strange reason, I actually enjoyed Jon Peter Lewis (AI:3) better than this. Of course, I give Chris props for not trying to "rock-ify" this one by yelling. I just thought that his voice was kind of monotonous. And that screeching in the end just wasn't something I would have wanted for him to do. Still, I thought this one was better than his first song. Of course, I wouldn't mind seeing Chris gone. That would be the shock elimination for me (like the way La Toya (AI:3) was kicked out before Jasmine. But then again, That would be totally a dream come true.


Elliott Yamin - "Trouble"
I Heart ♥♥♥ Elliott. Seriously. He probably got the scare of his life being in the bottom two last week so he totally brought it this week. I loved his performance. His vocals were definitely a vocal master-class. He did just enough runs, his voice didnt go out of tune, he was on time, and he looked like he was really enjoying it. This isn't exactly the easiest Elvis song to sing, but Elliott totally pulled it off without a hitch. It would be eeevil if they kicked him out this week.


Katharine McPhee - "Cant Help Falling In Love"
I thought Katharine did an okay performance. I thought it was a little pitcy and definitely a lot of screeching. She did a couple of good runs, but over-all, it wasn't Katharine at her best. I know she was safe last week, but this week just cries for a bottom 3 placement. I'd hate to see her go (because i want it to be Chris), but I'd let her go over Elliott. She just didn't do anything for me tonight.

My Bottom Three
1. Katharine (1st song)
2. Katharine (2nd Song)
3. Chris (1st song)

What's sad is that, I'm probably going to have to prepare myself for Elliott's departure. It's just so unfair because he did so damn well this week. I admit last week, wasn't his best, but this week... this week was just super stellar. If only we could vote, I'd doubt he'd be in the bottom three. Seriously. It totally makes me sad.




I'm still keeping my fingers crossed for Elliott's safety this week. The anticipation's making me so nervous. Finally, Dial Idol better be right this week. Because I'm actually counting on them.