For some reason, I felt Scott "the body" Savol's presence tonight, even if he wasn't there. Two of the song choices by my favorite Idols were once sung by Scott. I never did like Scott. I thought he had no life at all. I thought he was boring. But he made it all the way to the Top 5. Oh well.

I wasn't such a fan of the theme tonight, but I'm just glad our Elliott got to reach this. He gets to prove to everyone twice that he doesn't deserve to go home just yet.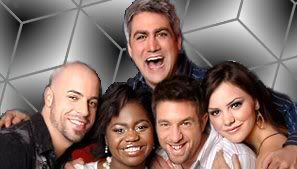 Round One: Song from the Year You Were Born

Elliott Yamin - "On Broadway"
Well, definitely better than Scott, that's for sure. I like his vocals, as usual. I thought the song started too quickly. It was like there wasn't much warning. If I blinked, I would have missed it. Nevertheless, I liked his performance. I loved it when he growled "dooooown the street." And the way he ended it was really good too. Not his best, but definitely not kick-out worthy. Plus, he looked so cute in his suit. Elliott looks soooo sooo sooo much better than when he started out. Gotta love the improvement -- looks-wise. Vocals-wise, he's always been great.


Paris Bennet - "Kiss"
Whoa! Paris got me listening from her first note. I thought she had a really cute performance. Her vocals were just perfection. I thought she looked pretty good too. I didn't like it when she said "kee-eess" in the chorus. Still, I love this song. I found the song a little too quick -- which is surprising, because it's actually longer than Elliott's by like 6 seconds. I thought it ended too quickly. Nevertheless, I liked Paris' performance. It was fun and I enjoyed it. I don't think I would've thanked Simon, but I guess she's trying ot be polite.


Chris Daughtry - "Renegade"
Chris' vocals were pretty good. Nothing beats his sexy rendition of "Have you Ever Really Loved a Woman," but then again, he probably won't top that -- for me. He did the entire screaming thing again, but I guess it was called for in the song. It's definitely not my favorite performance, because I'm just no his biggest fan, but I wasn't repulsed by it either. Obviously, everyone in the top 5 deserves to be there. So it's really difficult to find a bottom three. I just hate it that the judges pimped him again. I'm so not feeling Simon tonight. Way better than first two? As if. What the hell is in his drink? And an interesting point Pietro thought of: who knew Elliott was older than Chris? I surely didn't.


Katharine McPhee - "Against All Odds"
Yet another "Scotty the body" blast from the past. I was never a fan of this song. Even of the original. I thought Katharine did a pretty good job. Her vocals weren't as stellar as her other performances, but generally an okay performance. For me, this song just doesn't sound good on anyone, because it just ends up sounding like a karaoke performance (yuck, how Simon). Still, I'm not saying she did horribly, because she didn't. Just not my favorite.


Taylor Hicks - "Play That Funky Music"
I guess he wanted to show everyone that Taylor is back!!! Crazy Taylor sure is back. I liked his performance a lot. His vocals weren't perfect, but it didn't matter, becaue it was more of a performance, than a song number. He seriously entertained the audience and that's what matters. Because entertained audiences = voters power voting. I had fun and he sure looked like he did. Then of course, there was the requisite, pimp spot with the laying down on the floor. Then again, only Taylor could get away with that.

Round Two:Billboard Top 10

Elliott Yamin - "Home"
I've always had this semi-crush on Michael Buble because he's oh so charming when he performs, and he's got a great voice. This wasn't my favorite Buble song, but I was glad that Elliott made me like it. I loved his vocals. It was just soft and smooth and not all belty, trying to prove anything. Elliott's already shown he deserves to be there, this was just his time to show how great his normal voice was. And he looked so hot in his suit (how objective). I hope this song isn't a little omen either to what happens tomorrow. Sure, he sings he wants to go home, but NOT JUST YET. When there are two of them left, maybe. I'm just afraid, because I don't know how much longer Elliott's going to last. I really hope people are voting because he so deserves to go further. Both his performances were great. Definitely NOT kick-out worthy.


Paris Bennet - "Be Without You"
What is everyone else thinking? I loved her performance. I love this song and I thought Paris did an amazing job!!! What the hell? Too old? Not at all. She did it justice. I think Mary J Blige would be proud. She belted at the right parts and ended really great. Of course, I wouldn't mind if she leaves because that would keep our Elliott in the game. But over-all I thought she had really great performances. Especially this song.


Taylor Hicks - "Something"
Mr. Sneaky. I thought the point was to sing an old and new song. Then again again, technicalities get the best of us all. Something is in the Billboard charts (smart boy indeed). I thought he did a pretty good job. His vocals were just right and he looked comfortable on stage. Of course, I'm sure the Soul Patrol have already dialed their digits. So, I'm not afraid at all. The great thing about it, was that I thought I would be bored, but I wasn't. Good job.


Katharine McPhee - "Black Horse and Cherry Tree"
Katharine really wants to redeem herself. It wasn't really a singer's song (not too many lyrics to it), but she surely performed her ass off! I actually thought of Kellie when Katharine performed -- not the vocals, no worries. I guess she had to do all that kneeling on the floor because there wasn't really much song to sing. Not her best vocals, but entertaining.


Chris Daughtry - "I Dare You"
I felt as if Chris just sounded normal on this one. He sounded good, but the thing was, I couldn't distinguish it forom the rest of the songs right now. I guess that's a good thing for him ebcause he'd fit right in to the music now, but I just wanted to hear something different. Something to make him different from the rest. And the ending was agian a little too fast. The song was a little blah. Not my favorite definitely.

My Bottom Three
1. Katharine (1st song)
2. Chris (2nd Song)
3. Chris (1st song)

Everyone's on equal footing this week, it's so hard to choose a bottom three. People weren't really bad. It's just the way it is, with people getting less and less every week. All I have to say is SAVE ELLIOTT!!! Seriously folks, I'm just taking a deep breath every time I see that he's safe. Let's keep it that way.

And just a little something Pamy made up: Yaminions, no matter what their opinion.

That was priceless. Seriously.



And I really am annoyed at Simon. He had absolutely NOTHING great to say to Elliott. What the hell was that about? Couldn't he at least been a little nice? He was never that evil to Bucky or Kellie or anyone else!?! I'm so freaking annoyed!!! What is wrong with him?