Wow. David Foster si really really hard to please. No wonder he's supposedly "the best" there is out there. He really told the Idols what he thought. And i was really happy about that because they do need to improve. He wasn't going to give it to them easy. He really made sure the Idols did as great as they could.

Funny part is, Andrea Boccelli didn't really do much. He was kind of overshadowed by David Foster. I guess the producer still gets the last say. Andrea looked really nice though. He was more forgiving of their "faults." Their advice is obviously golden, because they've made it big in that arena.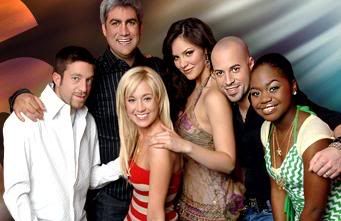 Katharine McPhee - "I Have Nothing"
I dont know what the judges were thinking. I thought she was pretty good. Sure, her rendition wasn't as great as Season 3 contestant Jennifer Hudson, but I think she did just as good as Season 4 contest Vonzell Solomon. Then again, they didn't exactly give Vonzell props for it last year. Anyway, I thought Katharine did a pretty good job. She was so beautiful too. I ♥ loved her dress. The color was so nice. And her legs (hoot hoot) looked vavavavoom! Not her best, but so not bad.


Elliott Yamin - "A Song For You"
Some people have talent. Others are just pure genius. Elliott is genius. I couldn't believe my ears when the judges (all three of them) loved it! I know Randy has every right to say he didn't like the arrangement, but I don't think he needed to do that. Any negative comment towards Elliott would be crucial. Still, I'm glad the judges liked him -- if it has any bearing at all **cough**Kellie**cough** Anyway, I thought Elliott sounded fantabulous and he hit every note right. He looked so good in his suit. And more importantly he looked comfortable. Power voting time! Save Elliott!


Kellie Pickler - "Unchained Melody"
Oh Kellie. How are you going to get past this one? I thought it was kind of boring. The song wasn't the best song choice for her. I think she chose it because LeAnn Rimes had a version, thus trying to be safe by sticking to a semi country song. I have to say she pulled off the falsetto though. It was probably the nicest part of the song. The verses were a little boring. The chorus got a little better. The rest was just a little too blah for me. But of course, she's got the fans.


Paris Bennet - "The Way We Were"
For some reason, I just wasn't as impressed with her as I was last week. Maybe the song was a little too old for her. I have to say I didn't think she "oversing" it though. She tried her best to sing it softly, but I guess it's like habit to sing it loud. Anyway, she had a pretty good rendition. She got all her notes and she didn't sound flat or sharp. But I wasn't blown away (like last week). The song was just a little boring for me. Still, Paris did a good job.


Taylor Hicks - "Just Once"
I actually thought Taylor looked uncomfortable. His voice was kind of shaking. And he looked a little stiff. However, I thought he chose a really good song. I love this song and I thought he had a good rendition. When he sang the chorus, he growled a little bit, and I just melted. Of course, not Taylor's best performance. Still, really good. Now that I re-listen to it, despite the uncomfortable stance, he sounds pretty damn great.


Chris Daughtry - "Have You Ever Really Loved a Woman"
I'll give him props for song choice. He chose the most "rock" song yet didn't scream the entire thing out. I guess he learned his lesson from David Foster. I like this song. And I thought he did a pretty good. (See, I'm not completely biased) This scares me though because this just seals his American Idol win. Oh well, it's not like I hadn't seen it coming already. Nevertheless, I thought he did a good job.

My Bottom Three
1. Kellie
2. Paris
3. Chris

The thing is, the bottom three weren't BAD. They just weren't as good as the top 3.

But of course, knowing how America votes, I'm definitely not going to see them there. Instead, I'm going to see our wonderful Elliott hold his breath. Damn.