There's something about Mark Ruffalo that really makes me want to watch a movie. I didn't even realize it, but as Pamy and took a look at his film credits, we've certainly watched A LOT of his films -- his "chick flicks" that is.

Nevertheless, I have to say that I really enjoyed watching Rumor Has It. I don't care that it got a C+ rating from Yahoo!Movies, I thought it ranked way higher than that. I am obviously very easy to please.

Of course, the fact that Jennifer Aniston (Sarah Huttinger), (my total idol, who also happens to share the same birthday as me) was in it really made me like the movie. She's so likeable. I'm definitely on Team Aniston.

Anyway, I thought the movie's plot was hilarious. I've never watched or read The Graduate, but it was a cool idea to pretend it was based on something real. I thought the movie was really well cast. I loved Shirley McLaine as the crazy ass mother of Jennifer's mother (aka grandma, which is a foul word in her language). I thought she gave the movie a lot of comic relief.

Richard Jenkins (Jennifer Aniston's dad in the movie, Earl Huttinger; aka the dead dad, Nathaniel Fisher on Six Feet Under -- which Pamy and I totally miss) was a really cool "alive" dad. His conversation with Jennifer near the ending really made my heart melt.

Sarah Huttinger: ...and you drive *so* slow...
Earl Huttinger: I only drive slow because you're in the car

And I thought Mena Suvari was really so adorable as the perky little sister. She had the entire Pasadena chick going on. I thought she was really pretty though. I hadn't seen any movies with her in it recently, and this was a nice way to get re-acquainted.

Of course, I loved Kevin Costner. I don't know if he is OLD enough to play the part, but I certainly loved him in it. Beau Burroughs -- man about town -- was just so swell on him. He was so damn smooth with the ladies (three generations of ladies at that), and he looked so hot the entire time, while keeping cool.

His wardrobe was so flattering to his body. I know his body can't compare to hot studs like Matthew McConaughey, but I have to admit that Kevin Costner looked mighty FINE in the movie. His polo shirts were so crisp even after sleeping in them, I really wanted to rip them off him. He's so charming, I wouldn't mind getting seduced by him.

Then of course, there's the "real" star of the movie -- for at least Pamy and myself -- Mark Ruffalo. This guy absolutely charmed me in 13 Going on 30, but in this movie, he took it to a whole new level. He was believable, hot, understanding, hot, sweet, hot, and just so damn hot.

In the last scene, where he's wearing that really gorgeous maroon polo, tucked in perfectly into his pants, that fit him so well, I totally understood why Jennifer Aniston had a hard time doing her lines, I would totally be distracted too.

The great thing about Mark Ruffalo too, is the endings of his movies don't disappoint. I hate it when they just leave you hanging. Not his movies, that's for sure. They satisfied our longing for something more.

This movie just reaffirmed my Team Aniston-stance. Sure, I like Angelina, but I'm Team Aniston all the way.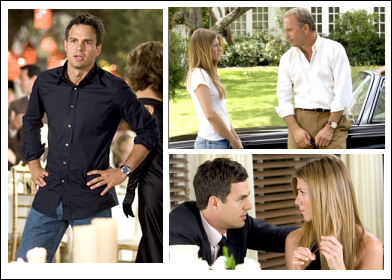 Speaking of other movies, I was in Shangri-La a few days ago and saw the trailer for Just My Luck starring none other than Lindsay Lohan (who is back to her red hair. Of course, the fact that Chris Pine (hottie from Princess diaries 2) is in it, made the movie more enticing to me.

However, after reading a quick synopsis of the movie, suddenly I'm not so sure.

And I think that someone might actually rival Apple Martin's cuteness baby-wise. Apparently, Ben Affleck and Jennifer Garner have spawned an adorable baby. Violet Affleck is pretty damn cute. She surely got the genes right. Then again, with new baby brother, Moses Martin in town, The Martins could still collectively hold the rights to cutest babies in Hollywood -- other than the rights to most unique names.

I really hope that Jake's big sister Maggie and Peter Sarsgaard's genes mix well, because I'm hoping for a cute nephew/niece [delusional moment]. I'm just glad that it's Maggie who's pregnant and not some random girl **cough** Kirsten **cough** with Jake's baby. That would just break my heart.

Speaking of babies, I'm actually more excited for the TomKat's little one to pop out. Tom -- who I thought looked really amazing in his latest GQ appearance, cleared up a bunch of "misconceptions" about his Scientology-thing. I'm more excited about that [TomKat] than the Brangelina baby. Somehow, the only Jolie-Pitt I really appreciate is Maddox.

And finally, apparently even Ewan McGregor (the love of Pamy's life) has also jumped on the adoption bandwagon. He and gorgeous wife, Eve Mavrakis are now the parents to an adopted 4 year old girl from Mongolia. I really think it's great that these celebrities are taking on children from unwanted households. I mean, look at Nicole Richie. Okay, maybe she's not the best example, but Maddox seems to have a great life right now.

Now I'm wondering, how I get on those lists of children that these celebrities pick from for adoption. If anyone knows, sign me up.