I may not be the hugest Queen fan in the world, but I really liked their tribute album. That's why I was so excited to hear the final 8 sing their hearts out. So many songs to choose from, I was hoping to hear some of my favorites like, Under Pressure, Somebody to Love and Good Old Fashioned Loverboy.

Seeing Queen right now, I just thought... wow, they're old. It was funny to see the final 8 "rock it out" on stage with them, because most of them aren't very rockstar-ish. Still, it's nice to pretend every once in a while. Let's not overdo things, folks.

Sure, I may not be the song choice queen, but I wasn't too happy with many of the song choices tonight. The fashion of course, is just another whole thing to complain about. But then again, as Paula loves to reiterate to Simon, they should be judged on their singing.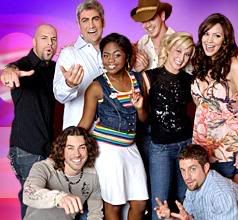 Bucky Covington - "Fat Bottomed Girls"
For some strage reason, I liked Bucky's performance. He chose one of my least favorite songs on the tribute album, and made it really likeable. It was great for his voice and I actually listened to him. He was entertaining in a non-annoying way. He looked good. His clothes were normal and he wasn't trying too hard. Of course, it didn't blow me away or wow me or anything, but I thought he was pretty good (in Bucky standards of course).


Ace Young - "We Will Rock You"
Wow. Where do I even begin? Let's start with something superficial, like his clothes. Geez Ace, try your leather pants on next time before wearing them onstage. I thought they were an awful fit. They should fit you like second skin, or at least I think it would have looked better that way -- rather than Ace's baggy leather jeans. Ick. And please, don't contradict Queen. I know you're trying to save yourself by showing some "artistic integrity" but you've got to earn it first. You can only pull that off, if you've proven something. Then of course, there was the song itself. I don't know what the hell he was thinking, picking an Anthem, because he did an awful job. When we heard the first note, I swear Pietro and I covered our ears. It was really excrutiating. Not good at all.


Kellie Pickler - "Bohemian Rhapsody"
Simon was right. It was the Night of the Living Dead all over again. I don't know if the lights were supposed to flatter her, because they didn't. Her eyeshadow had crossed the smokey eye-description when she finished up one entire pot of eyeshadow on just one eyelid. I swear I could see her eyebags. Although I do have them myself, I tend to put make-up on that flatters me instead of making me look like a ghost. I have to say though, that she did a fairly good performance of the song. I still love Rock Star: INXS contestant, Suzie McNeil's tribute to it but I have to admit, that Kellie didn't do too bad on it. I was expecting a total mess, but she actually pulled it off. Not that good, but certainly better than Ace.


Chris Daughtry - "Innuendo"
I was nice to him last week because he deserved it. Unfortunately... this song was just what?. Simon was right. The reason Queen doesn't perform it, is because it bores the hell out of everyone. Pamy had already looked up what indulgent meant in the dictionary, because Simon uses it a lot, and well, he was right. Chris was back to his screaming ways, and "rocker" attitude that I just can't seem to appreciate. There was absolutely no musicality in his performance. I wasn't entertained at all. I hope last week's performance wasn't just a fluke, because since we know that Chris is already going to win this thing, he might as well give us performances worth remembering.


Katherine McPhee - "Who Wants to Live Forever"
I'm on the fence on this one. I thought it was good for her that she chose to change her song, because her first choice wasn't exactly a Katherine-song. Still, she could have chosen something else. Under Pressure perhaps? Joss Stone did a cover for the tribute album, and since Katherine does remind us of Joss Stone, she should have taken advantage. Still, she did a pretty good job. It was pitchy and shrill just like what Randy says on some parts, but it was pretty good on most of it. I wasn't too entertained, but I wasn't that bored either. She has a wonderful voice. I just thought the song was too big for her in some parts. I have to commend her though on looking really pretty tonight. She had nice hair and she looked great. I can't say the same for Kellie though.


Elliott Yamin - "Somebody to Love"
I love this song. I love Elliott. Does that mean I loved the performance? Obviously! I wish he would've started with the first verse though, and gradually bring it to the bridge, but it was his call. I love the original and Anne Hathaway's version in Ella Enchanted, so I had a lot of expectations for this song. Still, Elliott pulled it off. I love it when he does the entire changing of notes in the end because he's really good at that. He still looks a little awkward on stage, but it's just a little now. And it was a good thing the producers decided to pimp him a little with that blast from the past DJ thing. Over all, it wasn't his best performance, but certainly better than the rest tonight. I was entertained by it and he looks like he had some fun on that one.


Taylor Hicks - "Crazy Little Thing Called Love"
Taylor is back! Perfect song choice for him. I thought he did a magnificent job on it. It was so funny when he tried kicking the microphone stand and it didn't fall. But he tried again and he finally hit it. Taylor did a great rendition of it, making it his own (I sound like Paula now). But he really did. He was back to his energetic self, dancing around and sounding great on his vocals. I think the reason Simon bashed him was because they needed to put Taylor down a little bit, as he has never been in the bottom 3. It's just him and Chris who's been safe all along. Thus the reason for the bashing. Of course, that's just me thinking there's a conspiracy behind the show. But oh well, Taylor did a great job, and I'm pretty sure he isn't going to be in the bottom three this week. At least I hope so.


Paris Bennett - "The Show Must Go On"
I think the hair thing has gone a little too far. I know she likes experimenting, but this hair was just very Tina Turner before her hair turned blonde. Of course, I like Tina Turner and I feel really sorry for her (I watched the movie on her life, and it's so sad that she kept getting beaten up by her husband) but Paris with the hair just didn't work for me. And I think she was distracted by it. However, hair or no hair, I thought Paris did a great job. I wasn't familiar with the song, but I think she did it justice. I was a little bored in some parts, but all throughout, you could hear that Paris' vocal was stellar and perfect. She sounded great and she did the song justice without trying too hard to act like what others think is a "rockstar." Pimp spot was of course given to her, as the producers were afraid they'd lose one of their greatest talents, after last week's bottom three scare. I think she's safe this week though.

My Bottom Three
1. Kellie
2. Ace
3. Chris

I would love to see Ace go. Seriously. He's been in that bottom three, far too many times.
Then again, I wouldn't mind see Chris go.

Whoops, did I just write that?