This week was a let down. Compared to last week's amazing 50s Night, almost everyone paled in comparisson. And this is the night where they're supposed to really bring it because this was the generation they grew up in.

Then again, the songs of this generation are far from being as musical as the songs back then. And Simon was right when he said that this was the theme because they wanted to see how the contestants would fare against the contemporary singers. Well, based on tonight, I don't think they'd compete too well. And this must be the reason only one Idol has really made it big and that was Kelly Clarkson.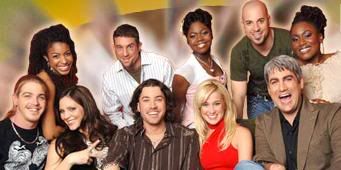 Lisa Tucker - "Because of You"
I know NO one liked it, but surprisingly, I did. It wasn't her best vocal, but it definitely wasn't THE worst. The problem is, Kelly did such a great vocal on that, that she's going to get compared and she's going to pale in comparisson. It was too safe. Lisa knows this song requires belting and she knows she can do that. But it was just so safe. Now that we listen to it for the nth time, Pamy and I have concluded that she sounds even **gasp** better than Katharine. I'm probably going to get flamed for that comment, but it's true. Plus, I know Lisa can do so much better. So unfortunately, despite looking amazing tonight: her aquamarine top and straight hair were per-fec-tion, she's probably going to go. Bye bye Lisa. Damn voters! VOTE!!!!


Kellie Pickler - "Suds in the Bucket"
Hmmm... I love Kellie, but this song wasn't good. It was too sing-songy according to Pamy and I agree. Pardon the word, but it's too freaking country for me. Paula was right. Her voice was too good for the song. I didn't like her look today though. It was too Barbie for me. I thought she looked great last week though. This week, she had that fluffy blonde hair and not so great outfit and just not my thing. And to think I like her.


Ace Young - "Drops of Jupiter"
Horrible song choice. I really love this song. If I were to quote Simon and change it up a bit, "Somewhere in a hotel room, after watching Ace's rendition of their song, Train just threw the TV out of the window." Seriously. It was that bad. He could have sung a really nice *N Sync ballad -- I was hoping he'd do This I Promise You. Heck! He could even done Justin Timberlake's Cry Me A River. He could have totally done that with all of Justin's falsettos. But NO. He tried going that "rocker" route, which he totally isn't. What a dumbass. Unfortunately, his "sexy scar" is going to get him votes. Argh!!!!


Taylor Hicks - "Trouble"
It's nice to hear Taylor actually sing. I'm glad that the song he chose this week had more words than last week's too. I don't know this song and that worked for him. That way, I had no one to compare him against. Unfortunately, the unknown song could also work against him, because it's just too unpopular. Still, I know hope people vote for him, because once again, Taylor is different. And I don't care what Simon says, I thought Taylor looked really good. He looked young and not in the trying hard way. He looked great.


Mandisa - "Wanna Praise You"
She wowed me last week, but this week: NOT. I don't know what Simon meant when he meant when he said that she [Mandisa] was indulgent, but I didn't like her too much either. I thought she was kind of preachy in the start. Her vocals were pretty good, but not her best. She kind of yelled a lot of the song. Since I'm not the biggest fan, I wouldn't mind if she got kicked out, actually. But obviously, that's so not going to happen.


Chris Daughtry - "What If"
Where do I even start? This guy has got to get OUT, before I yell at him. I knew the producers would jump to kiss his ass by doing the entire "clearing up the air" about the Live - Walk the Line issue. Of course they had to, lest Live fans out there stop voting for him. Whatever. This week, his vocals weren't even that great. He was screaming the entire time. This was just blah. I don't know why he still hasn't been kicked out. Thank god Simon finally came to his senses and told him to change it up next week. How he's going to do that? I have no idea. But hopefully, I won't have to see it. Unfortunatley for me, I'm going to have to bear with Chris all the way till the end. Again, I'm sure he's a great person, but I just don't want him to win. But just to be nice and objective, if Chris EVER performed a great performance, I would seriously PRAISE him here. I would. I promise. But he's got to wow me first. Tough luck Bo Bice didn't win last year, blame America. But that so doesn't mean Chris has to win this year.


Katharine McPhee - "The Voice Within"
Lord god. What the hell was she wearing? Her face is so beautiful, and she had to mess that up with god awful outfit. The song choice could have been good, but the execution wasn't great. I'm starting to sound like Randy here, but she started out pitchy and the middle was a little off/sharp to me. Even the ending was just blah. Dawg, it she didn't bring it. Now that I listen to it again though, it sounds better. Still, not the best. It's so sad though, because I was expecting a lot from Katharine this week. She should be careful though. Her fans could get complacent and **boom** she's out. She better bring it next week. Damn Katharine, you let me down.


Bucky Covington - "Real Good Man"
Bucky, Bucky, Bucky. He was in his element. He looked so comfortable on stage. Not a fan of the song, but he actually made me listen to him. I actually looked at him while he was singing. Wow. He was that good (in Bucky standards of course). Then they showed his wife!!! Bucky is married?!?! Back to the point, Bucky worked it. So what about his "diction," Chris's problem is so much BIGGER (he's so annoying!), Bucky brought it, worked it and was just wow (in Bucky standards once again). Of course, the genuine niceness disarmed me right away, so go Bucky! The best part is, he could leave tomorrow and it wouldn't matter. Aww, Bucky voters, go ahead and vote. Who knows, the white man who could win this year might even be Bucky.


Paris Bennett - "Work It Out"
FINALLY. We got a hawt one!!!! Everyone knows I'm not a Paris fan. But I love her performances. Without this competition, she would still make it big. Nevertheless, move over, Beyonce, this little girl can work it out. The most comfortable stage performer in the entire competition. If she plays her cards right, she's going to WIN this thing -- that is if she finds a way to KILL Chris. This was the only performance that really made me drop my things, stand up, and dance with her. Once again, I have to say that I'm NOT a Paris fan. She's that good. Her hair was great (which is a first), her clothes were just wow and did I mention she can really sing?!? Paris is going to win this thing if Chris just dind't exist.


Elliott Yamin - "I Don't Want to Be"
Finally, my Elliott gets the coveted pimp spot!!! This song just proves Elliott can do anything (other than Heaven). Who knew he could pull off Gavin De Graw? I was betting he'd do a John Legend song, but now that we think of it, that would have been "playing it safe." But see, he can do OTHER genres too **cough** Chris **cough** I was expecting someone else to do this song, but Elliott pulled it off and brought it. I'm glad he was placed in the end though, because it really helped the performance too. But in fairness to him, despite being placed after Paris, he still stood on his own and made me remember his performance. I loved it when he growls the part, "I came from the mountains" in the bridge and goes into a falsetto to the end of the bridge. Ack! Elliott can ask me to marry him now and I'd say yes. And he's not even physically that hot. Talent is all there is. ANd talent is what he's got. Teach me tonight baby!!!!

My Bottom Three
1. Ace
2. Kellie
3. Chris

Despite my personal bottom three, it's most definitely going to be Lisa.
Of course, I just say this in that small chance that the gods give me the opposite of what I want and keep Lisa in for just one more week. Ack, desperate fan.