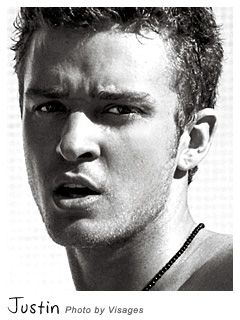 The King of Cool
He says he's a cocky bastard and I actually believe him. Justin has come a long way and I'm not saying that's it's for the good. I have to admit that I was probably the biggest *N Sync fan ever. I'm not kidding you.

In fact, I was very supportive of Justin's solo effort, but things have gone strangely horrible for him. He breaks up with Britney -- they have their reasons, he hooks up with everyone else and now he's bashing his former group. The group that sowed for him the seeds of fame, of which he is currently reveling in the popularity and success he has reaped from it.

Sure, he's cute, but attitude is important too. And I don't really think he's doing much in the looks department now, as he is looking dirtier and dirtier. It's not working for me. He's got an attitude problem and it's no longer confidence that oozes out of him, but conceit.

I agree with him on one thing though, he is a cocky bastard.

HOT:





**out of a possible five
Doesn't mean he's any less of an ass.