HAPPY BIRTHDAY MOM!!!!

Funny, I should greet the woman who bore me and went through nine months of excruciating pain just to have me born, when I know she doesn't really touch the computer much. Still, I'm quite happy she has yet another year in her life in which I can bug and bug and bug her just about anything. Thanks mom for not killing me yet. I praise you for your patience.

Things happened last week like the royal wedding of Crown Prince Felipe of Spain to Letizia Ortiz. The lucky girl! She's a commoner and now she's a princess. I want to be a princess. I've read the Princess Diaries and saw the movie and practically every other royal wedding and/or event ever and I just want to become a princess! I know that a lot of crap is to be done like protocols and dealing with the press, but I've always dreamt of it.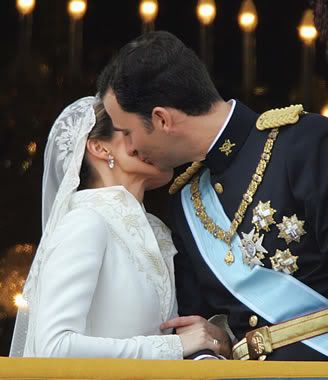 Oddly enough, I don't think it's ever going to happen as the royals my age are first of all from foreign lands and secondly, they belond to royal families that aren't very keen on commoners. Sure, there was Mary Donaldson from Australia and now Letizia, but me? I'm not even foreign. Haaay... Things just aren't going to happen for me, I guess.

Still, I was surfing the web for trailers of films and all that jazz and I saw the princess films coming out.
Prince and Me: A fairy tale love-story about a pre-med student who falls in love with a Danish Prince who refused to follow the traditions of his parents and has come to the US to quench his thirst for rebellion. Paige (Julia Stiles) and Edvard or Eddy (Luke Mably) come from two different worlds, but there's and undeniable attraction between them.
Luke Mably is HOT!!! He is totally princely and I can just see how he totally deserves Julia Stiles. He deserves her. See, she is the type of actress you don't feel like strangling -- Cameron cough! -- and instead you just wish the best for her. That is a great thing. You just want her to be happy and by the looks of her prince, she must be.

Cinderella Story: Routinely exploited by her wicked stepmother, the downtrodden Sam Martin (Hillary Duff) is excited about the prospect of meeting her Internet beau at the school's Halloween dance.
High part of the film is Chad Michael Murray. One main reason I actually want to watch it is because of Chad -- hehe! close. And despite all the bashing she gets, I like Hillary Duff. She has normal looking arms and doesn't make people feel insecure about their bodies.

Ella Enchanted: Ella (Anne Hathaway) lives in a fanciful and magical world where all children are given a "gift" from a fairy Godmother at the moment of their birth. Little Ella's birthright is the gift - and curse - of obedience. As a result of this unfortunate circumstance, Ella cannot refuse any command, and is often left at the mercy of unscrupulous personalities. In a bid to regain control of her life, Ella goes on a quest to free herself from this mysterious curse. Ella must outwit a kingdom filled with ogres, giants, wicked stepsisters, talking books and evil plots. And if she's lucky, she may find love along the way.
I'm just a big fan of Anne Hathaway. Since the weak interpretation of the book, "Princess Diaries" (more later), she has made me a fan. I can't wait to see her in this film even if she really doesn't play a princess because there's a prince in the story anyway.


Given these three prime examples of films which never get critically acclaimed just because they don't have much social significance or do not include any Oscar award winners in their casts, I think these movies are great! They inspire peeps like me to dream.


I just watched Dirty Dancing 2: Havana Nights and I have to say I am dreaming of Diego Luna! He is my prince of the moment. He has replaced my prince of Troy, Hector. Although Eric Bana and I have a very close connection -- delusional -- Diego has swept me off my feet. I cannot believe he's dating the girl (Romola Garai)in the movie too. Unlike Julia Stiles, she is not deserving.

Still, he can definitely teach me how to dance anytime. I will close my eyes and feel the music if I have to, because Diego Luna is red HOT!!! He had such a cute voice too! His accent was just too much for my sister and me! I finished my bottle of water during the first fifteen minutes of the movie due to a heat wave.

Everyone in the cinema was shrieking as it was obvious that only girls were in that particular theater. I so don't mind it either because we were all appreciating Diego's underfed busboy look and his hot Cuban accent. Haaay! Definitely my prince in a 50's inspired outfit complete with the hair.

To end this entry of lengths, I must say -- pardon me, I haven't updated in a while because I'm too lazy to turn the computer on even if I tell my brothers that I will use it after them, that the prince I have set my eyes on anyway just in case you were all curious is none other than Prince Harry.

Yes, they say he tried pot, and he may not be half as cute as William -- according to others, but to me, he is my prince and just wait because when I get my scepter and my royal title, you are all just going to let your jaws drop! See you all at Westminster Abbey.