For the first time ever, I missed the Oscars. The 77th Academy Awards showed thrice, and I missed all of it. The first reason was because of Talaban, the second was Talaban and the third was pretty much Talaban too. I'm not blaming it. It's done and over anyway. Today, I printed the pages and trooped over to UP's Shopping Center to have it book bound.

Since I had the freedom of choosing the cover, I chose yellow as a tribute to my soon to be former alma mater. I hope the gold embossing shows though. Now, I'm a teensy bit worried about that part.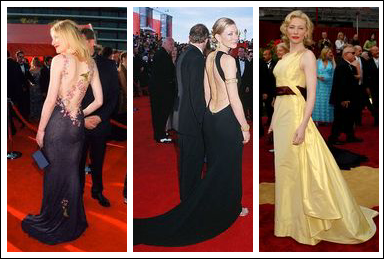 Still, back to the Oscars... Sure, I wasn't able to watch the show itself, but thanks to the Lifestlye Network, I got to watch the Pre and Post shows. And this year, I was even able to focus on the fashion. Yes, the fashion. I watch it every year, but this year, I got to concentrate more on it, as there was nothing else to watch.

And this, I have concluded. Cate Blanchett has looked fantabulous every single year. She looks beautiful most of the time, but I'm only going to include her Oscar appearances to narrow it down. I don't think she's ever made a mistake yet. So here's a look at her past gowns. (Weird of me to do this, I know, but it's called summer.)

71st Academy Awards
The first time I saw the dress, I thought it was kind of blah. And then she turned around and boom! The details of the back were really so very intricate. The birds and the flowers were unique and her dress was of course, very different from what everyone else had on that day. I didn't even know who she was back then (except as the creepy looking actress in Elizabeth), but her dress really stood out. This was the year that Gwyneth bagged the Oscar and fashion awards with her PinkRalph Lauren dress, but Cate's dress still was a winner. Someday, I'm going to want to pull something like this off. I have to get my flawless/toned back first.

72nd Academy Awards
Again, this dress makes me want to have a killer back!!! It makes me want to do all that weight lifting for my back muscles. I've got flab and she's got (back) abs!!! It has this very east asian feel to it. I don't know why I'm sensing indian vibes -- maybe because of the gold jewelry -- but she looks wonderful. I'm not exactly Ms. Gold Jewelry Fan, but on her, it looked really beautiful. Her back again, takes center stage and there's nothing about this outfit that I don't like. It makes basic black look not so basic.

77th Academy Awards
This dress was a knockout. Everyone this year seemed to be wearing that bustier top with a fishtail bottom and she stood out. Pamy and I agreed that it was a really beautiful gown. It not only made her standout, but it really really looked fabulous on her. Penelope Cruz had the same kind of yellow and it looked really nice on both of them. It really made me take a second look because everyone had the SAME thing on!!! Stand out for goodness sakes. And that's exactly what she did.

Yes, it doesn't hurt that she's both tall and thin and she looks great in everything. But I think she's a really great actress and she actually doesn't annoy me one bit. I'm not jealous, I just look up to her. I've seen her in a bunch of movies and she's really convincing. She really gets into character. She looked so freaky in Elizabeth, then she looked so neurotic in Bandits.

The fact that her husband isn't a star and doesn't look so good either is just a sign of how she obviously doesn't go for looks. She's got a son though his name is kind of weird (Dashiell -- no kidding), at least she seems to be happy with her family.

Enough praising Cate...





Maybe it's just me, but I find it really sad how celebrities start splitting up. I really wanted Brad Pitt and Jennifer Aniston to last. I honestly don't know what went wrong with their marriage, but I was seriously hoping it would last. They're so pretty together, it was so perfect.

The supposed reasons they broke up were really lame, and I'm wondering what the real reason is. If I were married to either of them (yes, even Jen), I would do absolutely anything to make it work. Imagine how their kids would have looked like. Oh yeah, they didn't have any. It's for the best that they didn't get pregnant, because it would be even more horrid if they broke up and left kids to suffer.

I just watched Enertainment Tonight and I found out that Charlie Sheen and Denise Richards broke up too. What the? I thought they were going to last. Oh wait, no one in Hollywood lasts anymore. What's sad is they've got a daughter and one more on the way.

How can these people just take marriage so lightly? I'd try to make it work for the kids, I guess. But it's just so sad. I though that they would last, though I shouldn't have, as Charlie Sheen has already had a failed marriage. I don't want to generalize, but it just makes me sad

And the most shocking one for me (Even if it's the least shocking according to the ETonline polls). Chris Klein and Katie Holmes didn't even make it to the altar and they already called it quits. At least I don't think they're married. Are they? I'm so confused!!!</center>

I thought that due to their ultra long relationship plus long engagement, they would last, but nothing is for sure nowadays. It's so sad. So much for wanting to marry Jake Gyllenhaal. Even if I know his love for me will burn constantly, who knows? They're all pretty crazy there.

So I salute, John Travolta and Kelly Preston for staying married so long! They're both Hollywood folks and I think it's their first marriages too, and so far, it's worked. Knock on wood though. We just never will know.

I think I'm going to bed. There's still school tomorrow. Great.